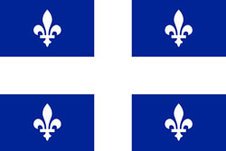 When it comes to online gambling in Quebec, this is one of the most progressive Canadian provinces. Loto-Quebec runs the official legal Quebec online casino, Espacejeux, a site that has been referenced by other countries as they navigate through the new-age era of gaming on the internet. Here you can enjoy all your favorite table games, online slots, video poker, blackjack, as well as bingo, lotto, poker and sports betting. The site is safe, legal and regulated in accordance with all federal and provincial laws.
By the end of 2014, a group of researchers hired by Loto-Quebec announced that Espacejeux just hasn't made a big enough impact or notable revenue for the government. One of the main reasons for this is that they haven't been able to gain a piece of the market that is occupied by unlicensed foreign sites. It was recommended that a licensing process be created to allow foreign operators to become licensed in Quebec, but in March 2015 the government disclosed that they were planning to enforce ISP's to block it's citizens from viewing foreign operator websites. The news has received plenty of backfire from censorship issues to unethical tactics to generating income. The only positive news from the announcement is that the province is still considering a license of private operators such as Poker Stars.
Despite access to Espacejeux, residents in the province continue to visit other English and French online casinos that are legally licensed in other jurisdictions. It's a trend that the government has expressed concerns over, but with a viable option licensed by the province, why do players look elsewhere? Sure, these international casinos welcome Canadian players; accept wagers in CAD; and offer both French and English software and support; adhere to provincial gaming laws; but is this truly alluring? Could it be that the actual product itself? When we compare the product and offers of Espacejeux with its international counterparts, we see that there are clear differences.
Latest Updates: September 27, 2016: Legislators in Canada recently voted down Bill C-221, which would have amended the Criminal Code to allow provincial governments to conduct and manage a lottery scheme involving single-game sports betting
April 20, 2016: Provincial politicians have renewed their interest to move forward with their plans to censor unlicensed gambling sites from residents.
In other news, the securities regulator in Quebec has filed insider trading charges against David Baazov, the CEO and largest individual shareholder of Amaya. Amaya own the PokerStars and Full Tilt Poker brands. Baazov has issued a statement denying any wrongdoing and plans to fight the charges. However, the Baazov has taken an indefinite leave of absence from the company.
Why International Internet Brands Are So Appealing
With the popularity of global brands on the rise, we take a look at what factors may be attracting residents of the province to select these brands over the provincial-run site.
Variety Of Games - Espace Jeux offers a wide variety of games but if their software licensing deal is exclusive it will prevent them from licensing some of the top slots titles such as Microgaming's Thunderstruck II and Mega Moolah or Playtech's Marvel Slots and more.
Quebec Casino Slots Odds - If you play at any of the land based casinos such as Casino de Montréal, Casino de Charlevoix, Casino du Lac-Leamy or Casino de Mont-Tremblant you need to be familiar with slots odds. Typical payouts are usually around 85% to 90%. Online casinos offer between 92 and 98% which is a big difference. The top rated international online casinos are audited on a monthly basis by the likes of eCOGRA to ensure fair play. Société des loteries are able to select the 'range' of the payout odds for their slots games, but without competitive pressure, they won't be under any obligation to publish these rates.
Pareto Principle: International online casinos allow players from all over the world to gamble. When you take this into consideration, it means that there are a lot more players to contribute towards progressive jackpots. At Espace Jeux, only residents of the province can register, which means a smaller pool or players and smaller progressive jackpots. This same principle applies to the size of the poker room network making player liquidity more attractive on world-wide sites like Poker Stars. Online poker and jackpot size is not the only thing that makes these brands attractive, the Pareto principle also comes into play. This is basically the 80/20 rule that states that 80% of the sales are generated by 20% of the customers. Within the gambling industry this rule is amplified because of high rollers who contribute 90% of the revenues. Because of this, international brands can take marketing to a whole new level and they do this through the use of amazing casino bonuses such as no deposit offers, free spin, cash back bonuses, loyalty programs and more. Espace Jeux is limited to residents of the province only and players are unlikely to experience the same promotional offers.
Sign up bonuses at international sites can get new players up to $1,000 CAD and you definitely won't get this at EspaceJeux. Many of the international sites including Tropezia Palace also offer VIP programs, monthly special offers, cash back bonuses, amazing tournaments and more. They offer more when it comes to banking options too. All the sites we recommend at legal and regulated and they are all mobile compatible. They have amazing graphics and use some of the top software providers such as Microgaming, BetSoft, PlayTech, NetEnt and more. International sites always have better game variety because they often tend to have software licensing deals with dozens of developers instead of just one. The major advantage to choosing an international site is that you get to play with players from all over the world and with more players, the jackpots are bigger and the odds are more in your favor.
We take all the hassle out of finding a reputable legal online casino to play at and by reading our in-depth reviews you will find the site that is right for you. We look at everything including bonuses and promotions, company history, customer complaints and how they are dealt with, software providers, jackpots, progressive jackpots and how often they are won, graphics, game selection, customer support, banking and so much more. We gather all our research and then rate the brand. All the information we provide is for informational purposes only and should not be used as legal advice. We do our best to ensure that all our resources are up to date and we check for new information on a regular basis. Enjoying a Quebec casino online isn't difficult and you really do have a lot of choice whilst still ensuring that your gaming is legal.
Historic Quebec Casino Laws Explained
In accordance with provincial laws, games of chance in this French speaking province are controlled by the Régie des alcools, des courses, des jeux (RACJ) or in English, the Alcohol, Racing and Gaming Control Commission (Unofficial). Régie des alcools, des courses et des jeux regulates horse racing, lotteries, video lotteries, and publicity contests in the province. Loto-Quebec, which was created in 1969, operates three casinos in the province as well as administering video lottery systems and network bingo activities. Loto Quebec is split into a number of different divisions - the primary subsiduaries being: Société des casinos, Société des loteries vidéo and Société des bingos. On the 26th of January, 2010, the government authorized the Société des loteries du Québec to offer online gambling to residents. Espacejeux went live on the 1st of December 2010 and since early 2011, poker fans in this province have been able to compete with players from British Columbia and Quebec's online casino fans have been able to enjoy legal online gambling on slots, blackjack, roulette and many other popular games of chance.
Is it illegal to use sites other than the official Quebec Online Casino?
Espace Jeux was launched in December, 2010. This is the only official, legal online casino that is licensed, owned, and operated by the province. The difference in the products and promotions between that of Espace Jeux and International brands may be the underlying reason why regulated international brands still attract Canadian players.
For many residents, there is growing concern around the legality of playing at international online casinos. Many players want confirmation that it is legal to enjoy wagering at sites such as Sports Interaction or Spin Palace that allow Canadian players. While we do not proclaim to be lawyers, the team at GrizzlyGambling.com, believe that there is no specific provincial law that explicitly states that wagering at international casino sites is illegal. There have been no cases to date and when it comes to online gambling and older laws relating to land-based gambling have never been applied to wagering on the internet. It is our opinion that the government will be investing their resources into prohibiting offshore online gambling operators more so than targeting Canadian people that choose to use these websites.
---
Disclaimer
All the information that is provided on this page is unofficial and should not be taken as legal advice. As industry advocates, we do our best to gather and provide the most up to date resources for informational purposes only. For more information on Canadian gaming laws, please visit our section on legal online gambling in Canada.