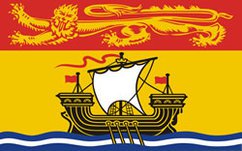 New Brunswick has a relatively short history with gambling, especially online gambling. The Atlantic Lottery Corporation (ALC) which represents N.B., Newfoundland and Labrador, Nova Scotia and PEI, started expressing interest in online gambling within a year of the grand opening of Casino N.B. The ALC has continued to express it's interest as recently as July 2014, but to-date, the New Brunswick online casino site that residents could visit and play online has yet to materialize.
The ALC has cited new-age trends in online gaming as a major challenge for the corporation to increase revenue. It's widely known that many residents, especially the younger generation between the ages of 19 and 35, have shifted their attention online and are attracted to a growing number on international brands. These regulated sites specialize in catering to countries worldwide, including Canada, by accepting wagers in local currency (CAD), multi-language software (French and English) and providing live, toll-free support. Until politicians get on-board with the ALC's insight on "Competitive Reality", residents will continue to spend their time (and money) at the more popular Internationally-licensed online casinos.
Latest Updates: September 27, 2016: An amendment to the Criminal Code of Canada to make wagering on single sporting events in Canada legal, Bill C-221, was recently voted down. The motion was approved earlier this year, and would have allowed New Brunswick's government to conduct and manage a lottery scheme involving betting on a race, fight, or single sports event.
Historic New Brunswick Casino Laws Explained
The New Brunswick Lotteries and Gaming Corporation (NBLGC) is the crown corporation that has long been responsible for the conduct and management of all provincial gaming. In May 2001, the government held a referendum to see whether or not video gambling machines should be banned. The result of this was referendum stated that VLTs would remain legal and have been located in licensed locations since 2008. In May 2008, Sonco Gaming was awarded a license to open a destination brand Casino N.B. which opened its doors on the 4th of March 2010. Despite the fact that residents in this province are allowed to legally bet on online lotteries, bingo and interactive games offered by the ALC, online casino games or online poker are is not supported by the ALC.
Since the opening of the land based casino, the ALC has expressed an interest in developing an online gaming site that supports casino-style games. In February 2011, the ALC announced that regulatory changes had already been drafter that would allow them to expand further into online gambling. The government has been having ongoing discussions with the ALC, but no decisions have been made. In July 2014, the ALC again called for discussions about establishing online gambling in the province but nothing has been agreed upon as yet.
Finding A Legal Online Casino
Even without a provincial-run online casino, residents are turning to online gambling by means of playing at international sites that licensed and regulated by international gaming authorities offshore. As a player, there are a lot of benefits to playing at an international online casino that accepts New Brunswick residents. The list of benefits include, but are not limited to, bigger bonuses and progressive jackpots, better slot payout odds, easy banking options, support facilities, game selection and more.
One of the great benefits of international casinos is that you get to play and compete against people from around the world. With provincially run sites, only residents of that province can use them. If you enjoy card games and poker, you can compete against players from around the world and hone your skills whilst still competing for real cash prizes. The welcome bonuses for new players can get you up to $1,000 CAD in free casino money and there are plenty of additional bonuses and promotions too. Slots tournaments, live casino games, mobile compatibility and more is all offering by these international establishment and the best thing about them, is that you can enjoy everything they offer from the comfort of your own home.
The key to finding a reputable legal online casino for a New Brunswick player is generally to do your research. This is where we come. Our team carries out extensive research on every site we list here and this includes looking at the bonuses and comparing them with other casinos, ensuring the casino is licensed and regulated, checking what software provider they use, and how many of them, testing their customer support and so much more. We even do a history check to see if there are any complaints outstanding against the casino and how they have dealt with issues in the past. We also look at the progressive jackpots being offered and how often they are won. All of this information is compiled to make it easier for you to find a casino that suits your preferences. A provincially-run New Brunswick online casino probably wouldn't be able to compete with what these sites offer. Many of them have VIP programs, no deposit bonus deals, free spins offers and so much more which is what makes them a great choice. Our expert team takes our evaluations very seriously so we know that we only provide you with the best. We give ratings that are based on the overall standard of the casinos including everything mentioned above.
---
Disclaimer
All the information that is provided on this page is unofficial and should not be taken as legal advice. As industry advocates, we do our best to gather and provide the most up to date resources for informational purposes only. For more information on Canadian gaming laws, please visit our section on legal online gambling in Canada.