Fri. Apr. 24, 2015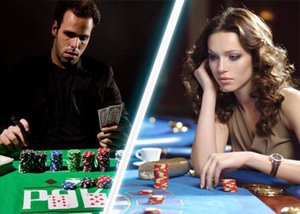 Everything you thought you knew about women and online gambling is wrong. Most people assume that online gambling is made up mostly of men but new statistics that are coming in are showing that women can play a big part in the world of iGaming too. There are different areas where women seem to be outplaying men. If you are in the gambling industry, you need to be aware of the marketing techniques available to use to your advantage to encourage women to sign up at your site. Ignore women at your own peril and get prepared to follow the ignominious path of Blackberry, Netscape and AOL.
So You Think You Can...Dance Gamble
A common assumption is that it is only men who gamble, but this is wrong. In fact, men and women are equals when it comes to online gambling. There is a difference, but it lies in the games people enjoy and reasons for gambling. Men tend to gamble because it is exciting and they want to feel the rush and take part in the action (Ladd & Petry, 2002; Walker, G. J. et al. 2005). Women on the other hand have been found to gamble as a means of escape and a way to cope with stressful and unfulfilling lives (Ladd & Petry, 2002; Boughton & Brewster, 2002). These statistics coincide with statistics and research that has been done in the popularity of social media with women. Women want a distraction, they want to feel involved, and many stay at home moms find that they get the interaction they need through social media and online gambling sites where they can enjoy instant chat.
Women are attracted to games of luck more so that skill based games. They prefer slots, bingo, and lottery. These games don't require full attention so female players can enjoy the chat rooms and social elements that are often included with these games.
The Facts About Women and Online Gambling
Another fact that you may not be aware of is that women are actually more successful at sports betting than men. Now I know, all you men reading this are shaking your heads and saying that there is no way, and while we would tend to agree, there is proof to back this up in the form of a Harvard Gambling study. It seems that researchers at the Harvard Medical School were interested in finding out which sex actually is the fairer one when it comes to playing at casinos. They carried out a huge study involving 40,499 subjects or men and women with a predetermined backroll to wager on various casino games. The study author Richard LaBrie and his team collected all the data and concluded that women exhibited more effective sports gambling behavior than their male counterparts. The results showed that women were more aggressive than men when it came to high stakes betting, risking on average $15 more than men and achieving 15% more on their bankroll than the men during the time period allowed.
While the above studies did prove the women may be better than men when it comes to sports betting, it still doesn't quash the fact that sports betting is still less appealing to women than online casinos. Figures from the Kantar Gambling Survey Q3/Q4 2013 in the UK, based on regular monthly users, shows that visits to the bookies on the high street are split 88:12 male female and even on mobiles, women don't do sports betting with the ratio here being 77:23.
Since 2004, the share of women internet users between the ages of 16 and 74 in Europe has increased by more than 80%, while the same age group for men has only seen an increase of 60%.
Popular Misconception About Men vs Women in Online Gambling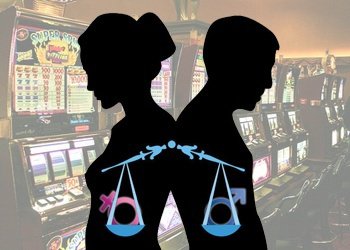 There are a lot of misconceptions when it comes to online gambling. Betting was always thought of as a male activity that took place in underground illegal venues. Recent research does however show that women are just as likely to wager and place bets as men. Evidence has shown that women tend to be attracted more to legal forms of gambling and are not as interested in the illegal varieties. What this should tell operators in this areas is that a greater availability of sites will increase the likelihood of women signing up for accounts and taking part in wagering activities.
Men and women play different games is another area that is often up for discussion. Data from numerous online casinos shows that certain online slots have a 50/50 gender split. Even games that you may assume are geared towards men such as the Marvel themed slots, which feature superheroes and villains, show an equal split between men and women.
Studies that were carried out on land based establishments over the years have always shown the women mostly use slot machines, while men play the table games. If you think about it, even in movies such as James Bond, we have always had the men at the tables and if there were women in the scenes, they were good luck charms and not players. This does tie in with the research and statistics above that show that women favor the games that don't have a massive skill requirement or require their full attention. Women prefer games of luck to games of skill, but again, there are always the exceptions, and I'm sure you will find plenty of women who love a good game of poker and baccarat.
Marketing To Women
What most gambling site operators will want to know, is if there are specific marketing practices they should be using when it comes to attracting women to their sites. According to Forbes, in the coming year, we are going to see the best-in-class organizations embark on the initiatives that will optimize the customer experience for women customers. We are also going to see some of the top brands creating retail innovations that will be based on women's cultural preferences which may also see them making selfies as natural to shopping as the shopping cart is. It seems, that the irresistible allure of selfies fuels contests, sweepstakes, and promotions of every kind, and it could be a massive marketing tool for casino operators looking to encourage more female sign ups. It is thought that selfies will drive image based search as well as become a research tool for brands. Photos and visuals are going to become a prominent feature in every marketing kit in 2015 and this is especially true for businesses with a large female buyer customer base.
Gambling operators are going to have to be extra vigilant when it comes to marketing to women. It's not just going to be about functionality, a high design aesthetic is going to be very important. Brands and products that will make the world a better place in some small way are also going to be important. Family friendly amenities and service options as well as great value will also need to be included. The site will also have to be engaging. Operators will have to remember that for women interaction is important and that is why online bingo sites have such a massive female customer based. These women log on to play on a daily basis but spend all their time chatting in the chat rooms with the moderators and other players. Chat games and special chat speak has been developed. Women get interaction and encouragement from other players and there is always a big congratulations in store for winners. Online casinos will need to look at implementing some of these features if they plan on getting more female customers.
Women love to play slots games and Wonder Woman, who is arguably the most iconic female super hero in comics, is a favorite. In this slots title the mission is to bring Amazonian ideals of love, peace and sexual equality to the world torn by the hatred of men. This title includes a wild multiplier, free spins, and a fantastic bonus game where the player has to battle a horde of zombies.
Vera Wang Casino Coming Soon?
Several online casino brands have recognized the popularity of gambling among females and designed brands to specifically target this gender. Cameo Casino was the first online casino to launch for women. Their slogan was "made by women, for women", but the brand was probably too early to the scene because it wasn't successful in its marketing campaign to attract women and closed its doors within 2 years. Since then, there have been others that have come in to take their place, which have been hugely successful including Maria Casino, 888Ladies, as well as Vera & John Casino which is owned by Intertain, a public company that is traded on the TSX. Now, I doubt we'll see Vera Wang branding her own online casino any time soon, but Ellen Degeneres now has her slot machine, so it wouldn't be far fetched to see more and more female icons in online gambling in the near future.

Online casinos have typically led the internet and this industry is growing every year. Technology is advancing and mobile gaming as well as social gaming is now a big factor. Gambling operators need to take everything into account including the fact that women are the purchasers of this world. According to figures, women account for 85% of all consumer purchases including everything from cars to health care. Taking this into consideration, it makes sense that marketing efforts will prioritize acquiring women customers in an attempt to reach parity with other industries as this is where the number are.
Can't Live With Them, Definitely Can't Live Without Em
Now this doesn't mean that men are to be left out, it just means that online gambling sites should be implementing some additional features that will also appeal to women customers. For men reading this, should you be worried about pretty pink flowers or candy stripes taking over your favorite site? Me personally, I'll take those pink banners with the promise of long-term viability at my favourite online casino all day long.