Tues. Jan. 23, 2018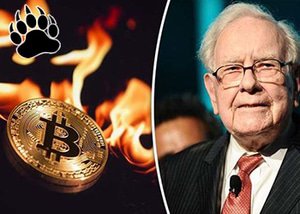 Bitcoin is featuring in the news once more and this time Warren Buffett is having his say. In his opinion, bitcoin and other cryptocurrencies will come to a bad ending. But it is really that bleak?
In an interview for CNBC's Squawk Box program Buffett stated that he doesn't own any bitcoin and has no intentions of investing in it either. The billionaire went on to predict a poor outcome for the future of the cryptocurrencies saying, "In terms of cryptocurrencies, generally, I can say with almost certainty that they will come to a bad ending. When it happens or how or anything else, I don't know."
Buffett, the chairman and CEO of Berkshire Hathaway said of bitcoin, "We don't own any, we're not short any, we'll never have a position in them. I get into enough trouble with things I think I know something about. Why in the world should I take a long or short position in something I don't know anything about?"
Buffett's position and feeling about bitcoin and cryptocurrencies is shared by billionaire Charlie Munger and he too stated that his opinion is that he is not excited. Investors, he believes, "are excited because things are going up at the moment and it sounds vaguely modern."
Buffett is not the first to have spoken publically about his doubts for the future of cryptocurrencies. Others have included BlackRock CEO Larry Fink who said, "Bitcoin just shows how much demand for money laundering there is in the world. JPMorgan Chase CEO Jamie Dimon said, "Bitcoin is just not a real thing, eventually it will be closed.
Not All Investors Share the Same Belief about Bitcoin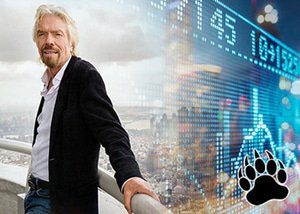 Billionaire entrepreneur Richard Branson is a big fan of bitcoin and blockchain technology, deeming it an economic revolution. Last year at the Virgin Disruptors event held in London, Branson talked about using the blockchain to create a better land titling system. He spoke about how in developing countries, titles for land are often forged or taken from the rightful property owners. He went on to say that the problem could be solved by using a blockchain-based solution.
Branson has also held a Blockchain Summit for the past two years on his private island where several new ideas and partnerships have been formed. When asked whether he things bitcoin as a currency will work or not, he said, "Well, I think it is working." He did, however, go on to acknowledge the volatility of bitcoin and that similar currencies could come on stream that may be even better.
Mark Cuban Not Taking Sides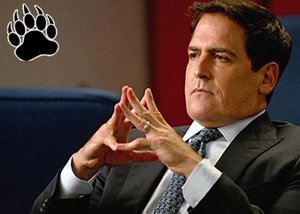 Mark Cuban, the billionaire investor and star of hit TV show Shark Tank doesn't seem to be taking sides and has mixed feelings when it comes to bitcoin. He's been making his feelings known on Twitter and has stated that he thinks bitcoin is in a bubble and he doesn't know when or how much it corrects. He also said that when you have a plethora of people bragging about making easy money, it's usually the sign of a bubble. He brought up the tech bubble from the late '90s and the housing bubble in the mid 2000's as a comparison and said, "Everyone also thinks that this time is different."
Cuban spent an hour and a half on Twitter expressing his opinion on the cryptocurrency and during that time the price of bitcoin fell considerably. Cuban said this was further proof of his point and later tweeted, "You know it's a bubble when a random Twitter thread bounces the price."
It wasn't all doom and gloom from Cuban though. He praised blockchain and the underlying technology saying, "I think blockchain is very valuable and will be at the core of most transactions in the future. Healthcare, finance, etc all will use it. He said that bitcoin and blockchain technology does have value but it's just not worth $3,000 right now. Read more about Mark Cuban's online gambling investments.
Bitcoin and the Online Gambling Industry
Cuban is well known for his investments and has been involved with the eSports market from the beginning. In 2017, we saw this market explode and competitive video gaming is now available on most online sports betting websites. It also received mainstream backing from ESPN who are planning to broadcast the bigger eSports events. Cuban invested $7 million into Unikrn where fans can place bets on eSports tournaments.
Cuban has been involved with the sports betting industry for more than a decade and has compared sports betting to trading stocks on Wall Street. He even went as far as to say that betting on sports was a smarter way to make money than buying and selling stocks and he may have been right. He's invested in the sports betting industry which has boomed over the past number of years and with the introduction of cryptocurrencies and more and more online gambling sites allowing bettors to use it, there could be a lot more to come.
The future of bitcoin is still an uncertainty, but it has proved that digital currencies are popular and no doubt here to stay in some form or another. More and more of the big brand online gambling companies now accept bitcoin as a deposit and withdrawal method and unless something really drastic happens, 2018 will see a lot more sites accepting cryptocurrencies. We have already seen Bovada be the first to accept the new bitcoin and we're sure many more will follow.
Should you invest in bitcoin? Well, that is a decision only you can make, but when it comes to online gambling, it's good to know that you have another way to bet on sports and play casino games for real money. Bitcoin is a popular payment method because it acts as an e-wallet meaning you don't have to provide the casino or sportsbook with your financial details. Deposits and withdrawals are instant, and you can transfer your bitcoin winnings to your bank account too. See our list of accredited bitcoin casinos to choose from.
Bitcoin's price change is one thing that a lot of people will be keeping an eye on in the coming months as the price continues to change. Will it rise again to the record heights of 2017? We don't know, but we will be watching to see.