Fri. Jan. 29, 2016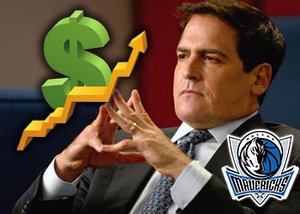 There are very few things that Mark Cuban and the NBA agree on. The vocal owner of the Dallas Mavericks has long butted heads with the National Basketball Association, with his total fines equalling the GNP of a small country.
But there is one subject on which Cuban and the NBA brass see eye-to-eye.
Cuban is at the forefront of the daily fantasy sports industry - and the legalization of sports betting in general - which was never more evident than his keynote address at the Fantasy Sports Trade Association winter meetings in January.
Mark Cuban is all in with Daily Fantasy Sports, eSports Betting, Legalized Sports Betting
Reacting to recent rulings made in New York, Illinois and his home state of Texas, which outlaw daily fantasy as illegal gambling, Cuban told the crowd in Dallas that, "It's absolutely wrong. And if this leads the charge to really define what gambling really is, without nuanced definitions depending on what state you're in and who's reading it, that's a good thing. If this leads to gambling being legalized and brought above ground, that's a good thing."
As mentioned, Cuban isn't alone in his opinion. NBA commissioner Adam Silver has broken away from the pack of anti-gambling professional sports leagues and fully backs the legalization and regulation of sports betting across North America. Silver is also a supporter of the daily fantasy sports industry, with popular operator FanDuel holding an exclusive advertising deal with the NBA. Cuban's Mavericks have a partnership with the DFS site as well.
So it would seem that Cuban and NBA have a lot more in common than the game of basketball, with both parties lobbying to legalize sports betting - be it Las Vegas-style wagering or through daily fantasy sports. And Cuban has put his money where his unfiltered mouth is, investing in many different aspects of the sports betting industry.
His most recent business venture into sports betting/daily fantasy was an undisclosed investment into DFS tools company Fantasy Labs in early January. The company, co-founded by professional daily fantasy player Peter Jennings, offers customers web-based software to help maximize their DFS dollar by assisting in player research and lineup adjustments.
Fantasy Labs other co-founder, Dan Fabrizio, is also the founder of sports betting software provider Sports Insights, which offers tools such as odds monitoring, statistical analysis, betting systems, and sports betting picks based on those models.
Cuban partners with Michael Jordan in European Sports Data Company Investment
The investment in Fantasy Labs came on the heels of an October deal, in which Cuban teamed with basketball legend Michael Jordan and fellow team owner Ted Leonsis to invest $44 million in sports data company Sportradar - a Swiss-based operation that recently expanded into the United States with massive statistical provider deals inked with the NFL, NHL, and NASCAR.
However, in the European market, Sportradar is better known for its Betradar branch, which provides live updating data to sportsbooks for the purposes of in-game wagering. The North American branch is keeping an arm's length from its sports betting cousin - for now - but Cuban's bold investment could pay off twofold if and when sports betting is legalized in the United States, with all that sports betting data just waiting to jump the pond.
Another growing form of gambling Cuban has had the insight to get involved with on the ground floor is the rapidly-expanding eSports market - competitive video gaming - that just received mainstream backing from sports network ESPN, which plans to broadcast bigger eSports events. Betting on these competitions is one of the fastest growing gambling options at sportsbooks and, this past summer, Cuban invested $7 million into Unikrn - a site that allows wagering on eSports tournaments.
Cuban invests in eSports gambling site Unikrn
The Seattle-based startup can't offer wagering to U.S. customers, getting most of its business from Europe and Australia, but much like Cuban's other gambling investments; he sees prohibiting laws being torn down and restructured to allow and regulate these forms of betting.
These recent business moves weren't on-the-fly decisions from Cuban either. He's had his finger on the pulse of the sports betting industry for more than a decade, drawing attention - as well as fire - with his infamous 2004 blog post in which he proclaimed he was starting a betting hedge fund.
In it, Cuban compared betting on sporting events to trading stocks on Wall Street, making the case that sports betting was actually a smarter way to make money than buying and selling stocks. And, with the recent push to legalize the limited and often illegal industry, it appears Cuban may have found a wiser way to expand his empire: not betting on single sporting events but betting on the sports betting industry itself.