Wed. Jan. 20, 2021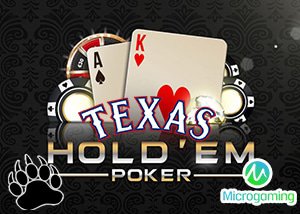 In May of 2020 Microgaming caused a lot of disappointment for poker fans when they closed their Poker Network. All was not lost however because they announced the launch of a brand new Poker Texas Hold Em title, the first in a series of new games.
The world leading online casino software provider announced their Texas Hold Em poker title as being the first in a full suite of exclusive poker games they are bringing to the Microgaming casino offering and this game launched on the 9th of December.
What The New Texas Hold Em Poker Game Has To Offer
This new poker release now available at all the top Canadian online casinos on the Microgaming network is the first in a new fun and exciting range of poker games from the software giant. It has been designed to appeal to both poker and casino players according to CEO John Coleman and will bring more choice to their loyal fans. There are a number of great featured included such as:
Multiplayer
Dynamic Sit n Go Tournament with a buy-in of just $5
Prize pool generator
A progressive jackpot that seeds at $25,000
Fully optimized for mobile devices
New Avatars
Portable table
The gameplay itself features rich graphics and former MPN players will feel right at home. This Poker Texas Hold Em title aims to immerse players in a realistic poker room setting and delivers an exclusive online casino experience. The game is fast-paced and features a $5 Sit & Go tournament that has been optimized for mobile users. It also includes a random prize pool wheel and a progressive jackpot that seeds at $25,000. This real money multiplayer online poker game is proving to be very successful at all the top Canadian online casinos and not just with avid poker fans. New players are signing up to try it out daily and it proves once again that Microgaming knows what they are doing, and that customer focus is at the core of their design department. Hold Em poker seems to be inspired by the MPN's Fish Party game which was a lottery sit and go tournament with a progressive jackpot also. This fully mobile friendly game can switch between portrait and landscape orientation so players always get the best view.
How to Play Texas Hold'Em
In this peer to peer online poker variant, three players are pitted against each other and the winner takes all. The game offers a shared pooled jackpot and is linked across the entire network. Like all linked games, the progressive jackpot will continue to rise until it is won.
Texas Hold'em is the most popular poker game because it's fast paced and easy to learn. It is the poker game used in the WSOP main event and the most popular variant played online. All players are dealt two cards face down which are referred to as hole cards and there is an initial betting round. Three community cards are then dealt face up in the middle of the table and all players can make use of these. A second round of betting takes place followed by a fourth community card being added to the table. There is a third round of betting and then a final community card. One more betting round takes place. All the remaining players will now have seven cards. These are their two hole cards along with the five community cards and it is up to them to make the best five card hand possible.
There are two mandatory bets that must be placed before the cards are dealt and these are called blinds. This poker variant can be played as limit or no limit. In limit Hold'em bets are set and raises can only be made in increments based on what the table limit is. In no limit games, players can bet as much as they want at any point during the game.
Where You Can Play Microgaming's Poker Texas Hold Em
You can play at any of the Canadian online casinos we review and there are plenty of great bonuses and promotions that you can avail of including no deposit bonus codes to try it with no risk.
The new Texas Hold Em poker game is set to be followed by Lucky Showdown and other exciting poker variants in the coming months.