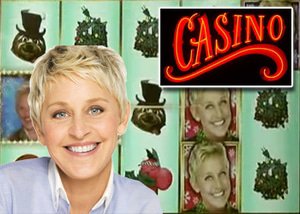 As one of the most "in" celebrity personalities right now, the new Ellen Degeneres slot machine is some pretty big news for gambling fans.
It's no big surprise that celebrities will endorse different types of products, but it is somewhat surprising that Ellen Degeneres has become the center of a new live slot powered by International Game Technology. This slot has been spotted in casinos in California, USA, but Canadians should be aware of this because IGT also produces games for some of the most popular online casinos in Canada.
The Drawing Power of Ellen Degeneres
The reason this news is so interesting is because she is one of the biggest drawing names among celebrities right now, and this sort of endorsement for gambling-related products doesn't usually happen until after some of that drawing power has worn off. The game itself centers around her television talk show, and it features her making a number of funny faces. It also features a number of themes from the show, and from screen shots that have been taken with player phones, it seems to have a "12 Days of Giveaways" title with escalating presents and multipliers.
Will We See This Slot Machine In Online Casinos?
It's unclear right now whether or not we will see this particular title in online casinos powered by IGT. While they have switched over tons of their land-based titles to an online-friendly format, there's usually a bit of a delay in the release of a land-based game and its online counterpart. So while Canadian fans of Ellen Degeneres may be able to play this game at some point in the future, it most likely won't be anytime in the near future.
The release of these game shows-based slots something is definitely changing when it comes to the public perception of gambling. As laws for online gambling expand in both the United States and Canada, it's interesting to see that big indicators of the growing popularity of the industry are coming from celebrity endorsements as well.