Tues. Nov. 29, 2016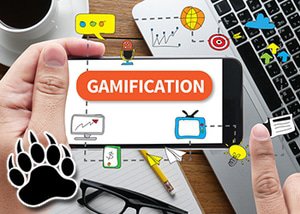 Gamification is essentially taking something that already exists, like a business, website, or community, and integrating game mechanics into it to inspire higher engagement and redemption rates. The process uses data-driven techniques that have been used for decades by game designers to engage with their users and then applies these motivational processes to other business processes in a bid to add value.
Gamification is not about creating something new, it's about making an existing model more valuable and encouraging more engagement and potentially more loyalty. This, in turn, leads to more sales, better ROI, higher customer satisfaction, and much more. This method has actually been around for a long time. In fact, many businesses have been using this process successfully for quite some time.
Successful Businesses That Use Gamification
U.S. Army: The US Army has been using this technique in their recruitment process since 1999. They have created the Virtual Army Experience, a mobile army simulator available to the public, that provides visitors with a real-life soldiering experience. These units are a very powerful recruitment tool as they engage potential recruits with entertainment while also using tracking technology.
Samsung: This company uses gamification for social loyalty and customer engagement and they do this by rewarding users for participating in their online community. By simply watching videos or reviewing products, Samsung users are rewarded with loyalty badges and different levels of achievement, resulting in increased user engagement.
RecycleBank: This company's gamification use is based on customer loyalty and retention. Users have the opportunity to gain loyalty and rewards points for green and eco-friendly incentives (both online and in real life). Users can then redeem points at participating retailers such as Rent the Runaway and Barnes & Noble.
Verizon: Verizon uses this marketing method to encourage customer engagement. Users get exclusive offers and earn points when they engage within the community by participating in different comments, sharing promotions on social media, and posting comments. This helps the company to promote and amplify their brand and builds loyalty from users.
The Introduction of Gamification to Online Casinos
Online gambling has changed over the past decade and a lot of this has to do with advances in technology such as the smartphone and tablet. The introduction of these devices has made gambling online more accessible than ever. This, in turn, has led to the establishment of hundreds of new online casinos each year. The competition in this industry is hyper-competitive and it has led to more and more welcome offers that try to lure players in. That's all well and good but the question that many operators face is how to keep players. What can they do to keep players coming back to their site time and time again?
Operators have realized that it's not enough to offer great slots or big bonuses. They need more and players are demanding more. This is where gamification has come into play.
Gamification in online casinos is not a passing fad and there are a number of operators that have benefited from using this process. In a recent interview with Aron Ezra, CEO of OfferCraft, we asked him if the integration of this technique into online casinos can bring benefits for both the operator and the players. He said, "Gamification of marketing attracts new players, inactive players, and loyal players. We've consistently shown very strong numbers here."
Gamification for online casinos is all about player retention and loyalty.
The aim of online casinos that apply this marketing tactic is to ensure players get a more enjoyable experience, which, in turn, will encourage and motivate them to return to play again. It's a win-win situation for both players and operators who gain loyal customers.
How Gamification is Integrated into Online Casinos
Gamification for online casinos is all about player retention and loyalty. Most online gambling sites use certain methods including a sign-up bonus or referral bonus for inviting friends to sign up for an account. These are all great, but there are terms and conditions attached to them and they don't encourage or motivate players to return time and time again. Below are a number of gamification methods that casinos use to encourage retention:
Loyalty Points - rewards programs are extremely popular and players are rewarded for every game they play by receiving loyalty points. With gamification, this is taken to a whole new level and players are involved in a community that rewards them with new levels, special bonuses, badges, and even more money or casino credits. More and more loyalty programs are now multi-tiered and offer bigger and better benefits the higher that players climb.
Goals - this is something that is now being introduced in many online casinos. Players have targets that they have to meet and this motivates them to play more and visit the casino at off-times when they otherwise would not be playing. .
Leaderboards - leaderboards are a great gamification incentive that provide players with a constant need to monitor their position to see how and where they rank. Again, this encourages players to return in order to improve their position, and more and more casinos are using tournaments and special promotions to encourage this behaviour.
Social Sharing - social sharing is a gamification technique that motivates users to earn rewards by referring friends and sharing their leaderboard rankings, loyalty points, and goals or badges on social media sites such as Facebook or Twitter. In return for their shares, online casinos will gift players with rewards such as more loyalty points, encouraging further play time.

The Effects of Gamification on Our Psyches

There are a number of psychological effects of gamification and these are essentially tied into motivation. Online casinos that use positive feedback methods such as rewards, points, status, level-ups, and more, help to increase player motivation. They can also increase the perceived ability of players by making difficult tasks and challenges easier through practice. Game dynamics are also included and they place triggers in games that help boost the motivation of the player and encourages them to keep playing. Gamification is essentially a means of being able to set goals and track your progress as you achieve them. For online casinos, it is all about releasing dopamine in their players. Dopamine is released by the body when it experiences pleasure. The more goals a player achieves, the more dopamine that is released and the easier it is for them to stay motivated. Gamification in online casinos does this by offering players rewards for the completion of goals. Play games and you receive loyalty points, for example.

Gamification only works when it motivates people to do something.

Gamification only works when it motivates people to do something. In the context of online gambling, players will feel motivated when they are in charge, when they are valued, and when they are getting better at something. This means that the best online casinos games tap into motivation while providing rewards. Friendly competition and the use of leaderboards is a great way to tap into this.

Dr. Stuart Brown, Founder of the National Institute for Play said, "Nothing lights up the brain like play. Play fires up the cerebellum, puts a lot of impulses into the frontal lobe, helps contextual memory be developed and much more."

Benefits of Gamification in Online Casinos

If done correctly, gamification can produce a number of benefits for online casinos. These include:

Extended Player Lifetime
Higher Player Value
Better brand recognition
Higher ROI

Possible Downsides to Casino Gamification

There are a number of downsides to casino gamification that should also be addressed. These include the use of virtual currency to lure players into playing for real money. An example of this could be the no deposit bonus or free time/free spin bonus that are often offered to new players. These bonus offers allow for risk-free gaming and are promoted as a way to play for free while still being in with the chance of winning real money. It sounds great and if you are lucky enough to win you will find that before you can withdraw your winnings you have to make a deposit. Of course, if you make a deposit you get to claim another bonus that will give you even more free games and you will feel inclined to use the money you deposited in a bid to win even more.

Many players spend a great deal of time playing at online casinos only to lose all their money and in turn, this can lead to addiction and problem gambling. If a player is competitive by nature and they are taking part in a tournament, they may continue to buy in and compete in a bid to hit the top of the leaderboard. This compulsive and competitive behaviour can lead to over gambling and financial problems.

Current Online Casinos Using Gamification Successfully

A large number of online casinos use gamification in some form or another be it through loyalty programs, no deposit bonus offers, or branded slots games. There are however three brands that really do stand out when it comes to gamification. These are Casumo, Kaboo, and Rizk Casino. Below you will find a little bit of information on each.

Casumo: This was the first online casino to really implement gamification. Once you sign up as a real player a little figure with a white belt is activated. This is your very own Casumo Hero and as you progress and level up, the colour of his belt will change. The more games you play, the more missions you complete, and this, in turn, gets you more loyalty points that help you overcome certain stages. New planets open up as you complete missions and the higher rank you get, the more bonuses and prizes you receive.

Kaboo: This online casino again uses missions and obstacles and hurdles for players to overcome via their online slots games. The more you play the more points you earn which you can later exchange for great bonuses. This gambling site also features its own character that you can view in a short intro video that will allow you to enter the gaming adventure.

Rizk: Rizk uses a special character called Captain Rizk who guides players towards real money, free spins, super spins, mega spins, massive jackpots, and more. All players have to do is spin the Wheel of Rizk. This special feature gets players to go through challenges and missions, races, and more so they receive more and more rewards as they play.

The future of Gamification in Online Casinos

The future is very bright when it comes to gamification in online casinos. We are sure that we will see it moving towards integration within all gambling establishments both online and offline. It has already been implemented in a number of mobile casinos and we expect that number to rise too. According to OfferCraft's Aron Ezra, when asked about the future of gamification, he said, "As new modes of interacting with the world emerge, like virtual/augmented reality or more voice controlled interfaces, you'll see gamification quickly follow and spread into those channels. The future is bright!"