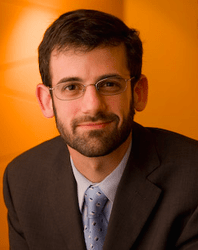 When you're playing a game on your computer or phone, you're usually just having a good time, not even thinking about the way your brain is instinctually captivated by what you're doing. After studying this powerful motivational effect, the executives at OfferCraft honed in and started using gamification to make incentives far more effective and profitable for a diverse array of companies and industries.
Grizzly Gambling was recently able to meet with Aron Ezra, CEO of OfferCraft, and pick his brain about this phenomena and how his award-winning software company helps organizations around the world make their businesses more fun. Based in Las Vegas, Aron was named one of the Most Intriguing People in Las Vegas by Seven Magazine, as well as one of the Top 10 Rising Business Leaders in the city by the Las Vegas Business Press. Read our interview here and learn all about how gamification is changing many industries, including online gambling.
Grizzly Gambling (GG): Thanks for taking the time to chat with us today, Aron. Let's talk about gamification. What is it and when did it become a more commonly used marketing technique?
Aron Ezra (AE): Gamification refers to the idea of infusing game dynamics into everyday activities. Gamification is a natural part of everyday life -- just think of the way parents transform eating a spoonful of applesauce into a silly airplane game to get an infant to eat. But it's still a relatively new concept in marketing, operations and HR. Our goal is to change that. We're helping to bring gamification to businesses across many industries. When done right, it works very well.
GG: Have you discovered a particular industry or environment where gamification performs noticeably better than others?
AE: It works across most industries. Human beings are wired from birth to play games. That's why games can be so powerful--they appeal to everyone. That said, when constructing a gamified experience, you have to understand the nuances of the person and the circumstance. For example, if someone's in a hurry, you don't want to force them to play a game. You need to know your audience and tailor the kind of gamified experience you create for that specific audience. At OfferCraft, we study those nuances, and we partner with our clients to keep things as fresh and entertaining as possible for people.
GG: Can you describe the effects of gamification and how it motivates people?
Studies have found that people are far more likely to remember information presented in the form of a game, to have positive feelings about the experience, and to want to do it again.
AE: Games have a powerful motivating effect on our brains. When we play games, our neurons release dopamine in anticipation of winning. If you incorporate elements of chance, surprise, and competition, that intensifies the motivating effect. Dr. Stuart Brown, Founder of the National Institute for Play, put it this way: "Nothing lights up the brain like play. Play fires up the cerebellum, puts a lot of impulses into the frontal lobe, helps contextual memory be developed, and much more." Studies have found that people are far more likely to remember information presented in the form of a game, to have positive feelings about the experience, and to want to do it again. We can use games to turn boring or unpleasant experiences like waiting in line or answering a survey into things people actually look forward to doing.
GG: Are there any concerns or downsides with implementing gamification programs?
AE: If you don't know what you're doing, it's easy to mess this up. You can't just throw a game into a marketing or internal communications piece and hope for the best. There are plenty of companies that tried that but ended up creating games that weren't fun, games that were too hard to maintain, or games that actually annoyed the target audience. At OfferCraft, we are laser-focused on understanding precisely how to make business processes more fun. That approach, coupled with our proprietary software tools that blend gamification with artificial intelligence, generate double-digit revenue increases for our clients and make their customers a lot happier.
GG: Are there any legal issues concerning gamification? Any instances that it cannot or should not be used?
AE: You don't want to inadvertently create an illegal lottery or an online gambling experience at organizations that are not allowed to do that.
GG: What are some ways that land-based casinos use gamification?
AE: Casinos are experts in creating fun, memorable experiences. But those experiences tend to be limited to the gaming floor. OfferCraft helps casinos around the world bring the spirit of fun and possibility to all aspects of a casino's operations: restaurants, hotels, concerts, marketing and more. There are a lot more examples of the work we do for them on our website.
GG: How about online casinos? Does the integration of gamification into an online casino bring forth specific benefits for the player, the casino, or both?
AE: Both. Gamification of marketing attracts new players, inactive players, and loyal players. We've consistently shown very strong numbers here.
GG: Finally How do you envision the future of gamification evolving?
AE: As new modes of interacting with the world emerge, like virtual/augmented reality or more voice controlled interfaces, you'll see gamification quickly follow and spread into those channels. The future is bright!
We thank Aron Ezra for taking the time to talk to us about gamification and enlighting us on the future of the industry. For further information on this topic, please take a look at
our article on gamification
.