Fri. Oct. 28, 2016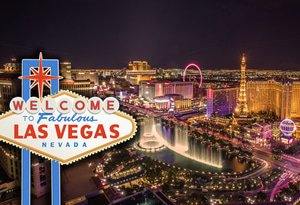 Everyone knows about Las Vegas, whether they have been there or not. Commonly cited as being the gambling capital of the world, Las Vegas is the first destination for many who wish to experience the thrill of a real live casino. They are also well aware of the popular phrase associated with the destination - "What happens in Vegas, stays in Vegas".
Las Vegas is a city with a rich and diverse history, and its past is littered with staggering facts and figures. The infamous strip stretches for 6.8km and can be found south of the Las Vegas city limits in Paradise and Winchester. The majority of the strip turns into a scenic route at night and is designated an all-American road. Here you will find fourteen of the world's largest hotels by room count, as well as many of the largest casinos and resort properties. Add to this the use of dramatic architecture and lights, as well as the entertainment offered, and it's easy to see why it's such a popular destination.
The very first casino that was built on the Las Vegas strip was the Pair-o-Dice Club back in 1931, followed by the El Rancho Vegas in 1941. The El Rancho Vegas, however, was tragically ruined in 1960 by a fire. The Hotel Last Frontier opened in 1942 while resorts such as the Desert Inn and the Flamingo followed between 1946 and 1950. The International Hotel opened in 1960 and this was the start of the mega-resorts. The original MGM Grand Hotel and Casino debuted in 1973, was sold in 1986, and renamed Bally's. The Mirage opened in 1989 followed by the Rio and Excalibur in 1990. These huge establishments offer gambling, lodging, entertainment, and restaurants. In the 2000's the strip began to look at the high-end luxurious elements and the Bellagio, Venetian, Palazzo, Wynn, and Encore resorts opened. High-end dining, spas, and nightclubs, and retail outlets added to visitor options. In 2009, CityCenter opened, which consists of a hotel, casino, condos, retail, art, business, and more. The LINQ opened in 2012 and the Las Vegas Festival Grounds opened in 2015. The T-Mobile Arena and The Park followed in 2016. Renovations and new builds are ongoing in this ever expanding area.
Growth and Expansion of Las Vegas - Visitor Statistics
The growth and expansion of the area has been built on gambling and other forms of entertainment and draws millions of visitors every year.
Aron Ezra of Offercraft, a Las Vegas-based software company that specializes in gamification, stated in a recent interview with Grizzly Gambling, "Last year, Las Vegas was the most visited destination in the world, with a record 42.3 million visitors."
Other statistics on visitors to Las Vegas in 2015 include:
Convention Delegates visiting in 2015 - 5,891,151
The number of conventions held in 2015 - 21,306
Clark County's gaming revenue for 2015 - $9.6 Billion
The Strip's gaming revenue for 2015 - $6.3 Billion
Downtown's gaming revenue for 2015 - $542 Million
Boulder Strip's gaming revenue for 2015 - $784 Million
Average visitor's gambling budget per trip in 2015 - $579
City-wide occupancy for 2015 - 87.7%
Hotel occupancy for 2015 - 89.8%
Motel occupancy for 2015 - 68.3%
Weekend occupancy for 2015 - 93.7%
Average nightly room rate for 2015 - $120
Number of hotel/motel rooms in Las Vegas in 2015 - 149,213
Average visitor's trip (in nights) for 2015 - 3.4
% of visitors travelling with someone under 21 in 2015 - 8%
Average age of a visitor in 2015 - 47.7
What % are first time visitors in 2015 - 16%
Gaming Behavior and Budgets Statistics
When we looked at gaming behavior and budgets, statistics showed that 73% of visitors to Las Vegas in 2015 spent some time gambling. This is a similar percentage that has been reported for the three previous years but down from the 2011 figure of 77%. The statistics also showed that the average time that gamblers spent per day has increased to 2.9 hours in 2015. The figures for 2014 were 2.6 hours per day. The amount of money visitors had to spend on gambling also increased and for 2015 the average gaming budget was $578.54 compared to $484.70 in 2012. The statistics also looked at where visitors to Las Vegas gambled. 88% said they gambled on the Strip Corridor while 30% gambled downtown. Only 3% gambled in the Boulder Strip area with 1% gambling in North Las Vegas and less than 1% in outer areas.
Visitor Entertainment Statistics
In the Las Vegas Visitor Profile Study carried out in 2015, one of the areas looked at was entertainment. The study shows that 61% of visitors attended shows during their stay. This figure was down from 65% in 2014 and 72% in 2013. Out of the visitors who attended shows, 72% saw a lounge act while 26% saw a headliner act. 12% of visitors attended other paid attractions.
What makes Vegas unique from other gambling destinations such as Atlantic City, Monte Carlo, Macau?
When asked what makes Vegas unique from other gambling destinations such as Atlantic City, Monte Carlo, and Macau, Aron Ezra said, "Las Vegas has always been about reinvention, and gaming is no exception. The casinos here pride themselves on creating amazing experiences that have a little something for everyone."
Talking about gaming, Las Vegas boasts the best VIP programs offered by casinos. There are a variety of schemes available including:
Total Rewards by Caesars Entertainment: Found on the strip in Caesars Palace, Planet Hollywood, Las Vegas Harrah's, Bally's, Flamingo, Imperial Palace, and Paris.
M Life by MGM Resorts: Available in 12 casinos including MGM Grand, Mandalay Bay, Mirage, and Luxor.
Bconnected by Boyd Gaming: These casinos are found off the strip in the downtown area.
Las Vegas also has more high profile resorts and casinos than Atlantic City, which is often seen as the less affluent sibling of Las Vegas. The one advantage Atlantic City has though is that online gambling is now legal in New Jersey so the casinos can sync their promotions between their land-based and online casinos.
Macau is part of China and the casinos there are luxurious. One of the big differences between Macau and Las Vegas is that people go to Vegas for entertainment whereas they go to Macau for investment. Casinos include Sands Macao, MGM Macau, and more, and they offer excellent VIP schemes. The recent anti-corruption clampdown by the Chinese government is, however, having a negative effect on high roller revenues. High rollers are staying away and the casinos are now starting to look at lower end players. Another thing that must be pointed out is that there is no alcohol allowed in casinos in Macau. Players can enjoy tea or Coca-Cola.
Monte Carlo is known for being the spot for the rich and famous, and there are plenty of VIP programs available in the casinos. Monte Carlo also has online gambling and the casinos also sync their promotions, but be warned, these are very niche offers.
The Future of Gambling in Las Vegas and Online Gambling in the USA
The possibility of online gambling becoming legal in the USA and the future and ramifications it could have on the gambling industry in Las Vegas are important things to look at. What would happen to the strip's high-end gambling establishments if legal online gambling was available in the USA? Now, of course, what we offer here is really just speculation because we are a long way away from legal online gambling in the USA.
A number of experts have already expressed their opinion on the legalization of online gambling in the USA and there are at least five states considering allowing some form of online gambling. These are California, Iowa, Hawaii, Massachusetts, and Pennsylvania. The major benefits that have been cited are job creation and tax revenues. Morgan Stanley predicted in 2013 that online gambling would have produced revenues of $1.3 billion in 2017 but this has now been recalculated to $410 million. Their predictions also say that 15 states will legalize online gambling by 2020.
The change in figures from Morgan Stanley come after the three states that have already legalized online gambling--Nevada, New Jersey, and Delaware-- got off to a very slow start. In 2014, online gambling in these states took in $135 million in revenues. Morgan Stanley had initially forecast these figures to be $678 million.
This shows that the arguments for legal online gambling may need to be altered as revenues are not as forthcoming as predicted. As we have seen from visitor statistics for Las Vegas, many visitors come to Las Vegas for entertainment and not just gambling. As such, online gambling won't affect them. Las Vegas packs enjoyment with gambling and people can't get that from the comfort of their homes.
Vegas's Role in the Laws Against Online Gambling in the USA
There is lots of opposition to online gambling in the USA and one of the most vocal people is Sheldon Adelson, the billionaire Chairman and CEO of Las Vegas Sands Corp. He is also the man behind the Las Vegas Venetian and Palazzo hotels. Adelson has publically backed the anti-online gaming bill, Restore America's Wire Act, which would see a federal ban being placed on all internet gambling including online state lotteries and poker.
Adelson explained his position in a Bloomberg interview saying, "I want to make money from those who can afford it. I can't tell from the Internet who is underage. I can't tell who has financial difficulties. I can't tell who is not gaming responsibly. I can't tell if money is being laundered. I can in the casino."
Adelson has also cited the danger of addiction and the possibility of money laundering as reasons to stop online gambling becoming law.
The gambling industry in Vegas is split on the support of this bill. Adelson has been joined in support by Steve Wynn, but Caesars Entertainment, MGM, and Boyd Gaming all want to see online gambling legalized.
Outlook for Las Vegas in 2017
Las Vegas is one of the areas that is always progressing and always updating what is on offer. Not only can visitors gamble at some of the world's best casinos, they can also watch spectacular shows and see some of the biggest acts live including those performers who reside there, such as Celine Dion and Britney Spears.
Gamification specialist, Aron Ezra, said in our recent interview, "Tastes in gaming, entertainment, and even food are continually evolving, particularly among the younger demographics. It's critical for casinos to keep their fingers on the pulse and push the envelope to stay exciting a relevant as the world changes."
Will Las Vegas have their fingers on the pulse? We think so. There are a number of developments being worked on at present. There are an additional 167 hotel rooms to be opened in 2017 with 5,087 more to be added by 2019 thanks to construction projects. There are massive new projects underway and two of these show that Vegas is shifting its focus away from gaming and onto entertainment. The Strip is morphing into an entertainment and business destination that will be less focused on gambling and more focused on entertainment. After all, the younger generations are coming to Vegas for the nightclubs, restaurants, shopping, and hotel rooms. The outlook for Las Vegas in 2017 is very positive indeed.
References:
http://www.lvcva.com/includes/content/images/media/docs/2015-vegas-faqs.pdf
http://www.lvcva.com/includes/content/images/media/docs/2015-Las-Vegas-Visitor-Profile.pdf
http://www.lvcva.com/stats-and-facts/
http://www.sltrib.com/home/2352789-155/estimate-of-us-online-betting-market
http://www.bloomberg.com/news/videos/b/c6faec3f-ca96-4788-a09d-34762e6da36b
http://www.lvcva.com/includes/content/images/media/docs/ConstructionBulletin-Jun2016v2.pdf