Fri. Oct. 24, 2014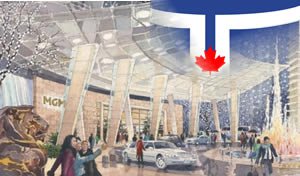 Good news is on the horizon for anyone that is looking forward to a legal Toronto casino. The push to include a referendum on a new casino site sponsored by the government is gathering steam in the 2014 municipal elections and there are a number of key politicians looking to get more vocal on the topic during the October elections.
This isn't the first time there have been talks of a casino in Canada's largest city. In 2013, councillors shot down a proposed casino by the Ontario Lottery and Gaming Corporation. The proposal didn't get a lot of support but it was backed by Majoy Rob Ford who "All-In" to have a casino built in the heart of city's downtown district.
Change Could Be On The Horizon
There are a lot of options available to residents of the city who would like to enjoy online gambling. While these sites are located offshore, they are still legal, and the government wants to cash in on their success. Back in 2012, the OLG announced a plan to modernize casinos in Ontario including offering residents in the province the chance to enjoy online casino games through a government-regulated website. The key difference about the newly proposed casinos was that while the government would oversee the sites, it won't actually run them. Instead, what is expected to was that private enterprises would be invited to build and manage the casinos whilst paying a chunk of the profits to the government. This of course was rejected by councillors in 2013, but it looks like a referendum could be on the cards again and if it is, it begs the question, could councilors make a U-turn on their decision?
Toronto Online Casino & Gambling Options
Before we look Toronto online gambling, let's see what is available for residents who enjoy land based casinos. At present there are three big casinos within a 90 minute drive of the city. Fallsview Casino in Niagra Falls and beside this there is Casino Niagara. Seneca Casino is just across the US border in Buffalo and, if you head north, you will find Casino Rama - the most popular Indian Reserve casino in Ontario with table games, slots, and video poker games to be enjoyed. Another option is the Woodbine Racetrack - a 'Racino' that has hundreds of slot machines play while betting on horse racing.
As you can see there are some great local choices, but what about a Toronto online casino? Well, the provincial government is in the process of setting up its own Ontario online casino that will offer online gambling action to Toronto online casino players right from the comfort of their own homes. The Play OLG site isn't operational yet, but if some of the other provincial sites such as PlayNow (Western Canada) and EspaceJeux (Quebec) are any indication, the product will likely fall short of the products offered at international online casinos accepting Canadian players. While we wait on more news about the proposed Toronto Casino, and to see whether or not a new referendum will be held in 2014, why not check out some of the great offers available for Canadian players at some of the top online casinos in the world.