Wed. Dec. 24, 2014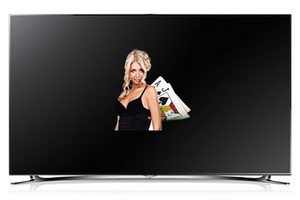 Smart TV's are fantastic and if you are lucky enough to have one, you probably don't even realise that you can access amazing online casino games. That's right, you can enjoy some of your favorite titles on your TV screen using your internet connection. The casino games you can choose from will depend on the make of your television but you will have access to games such as roulette, blackjack, slots, sportsbooks and more.
Smart Gaming is the force behind all of these amazing live dealer games and they offer a wide range of regulated, live dealer gaming options. All their broadcasts are approved by OFCOM. This software provider is the power behind a lot of the casino games you will be able to access on your Smart TV. Smart Live Casino which is based in Britain is probably the most popular TV casino and their live games are presented by fully licensed croupiers and streamed in real-time to your television, mobile or tablet. Smart Live offers a wide range of live games including blackjack, baccarat and roulette.
Smart TV Broadcasting Ltd is another UK company who began their transmissions back in 2007 and is available on Sky channel 863 and Freeview channel 22. Part of Smart Live Casino, they offer live dealer roulette, live dealer blackjack and roulette. On their website players can access sportsbook and slots games. On their TV channel oustide of the normal presenter broadcast times, a fully automatic air-powered roulette wheel appears on the TV channel and the website.
Smart TV Casino Games
Live Roulette - The televised version of the live roulette game is the exact same as the game found in real casinos. A single zero European wheel is used and each game is open for one minute for you to place your bets with a new number being spun every two minutes. The latest version of their app is compatible with the iPad and the iPhone.
Live Blackjack - Standard blackjack games are played and the unique online interface allows you to play your chosen hand while other players play the hand differently. What this essentially means is that everyone starts with the same two cards and the dealer will always start with the same card too. The rest of the cards are not dealt to a particular hands so players win based solely on the decisions they choose to make.
3D Slots - There are plenty of slots apps for your Smart TV but if you want to play for real money prizes you will need to visit the Smart Live casino website where you will find a great range of 3D slots games. You can access all of this via the app as well as the Sportsbook which is located on the betting section of the website. You can bet on 16 different sports and there a different forms of betting too.
Social Gaming on Your Smart TV
Social Gaming is all the rage and if you have access to this technology, you will be able to access PlayJam games. Playjam have signed a deal with Samsung to bring their games to your TV. All players with a Samsung Smart TV will have access to a wide range of titles including thousands of casual games at the touch of your remote control buttons. The PlayJam system includes full support for social games including leader boards, cross-network tournaments and even virtual currencies. It is thought that social games could become even bigger than Facebook games and PlayJam CEO Jasper Smith believes that games on TV will evolve into a huge commercial opportunity. He stated that the aim of PlayJam was to simply provide the best gaming experience possible for their customers and to make that a reality they offer game developers access to their global games network.
Facebook have made changes recently to their Facebook Credits terms and this has allowed Facebook game developers to place their games elsewhere as long as the pricing is indentical. This means we could see a lot more of the Facebook games ending up on our TV screens very soon and if you have a Smart TV then now is the time to familiarize yourself with all the amazing casino game apps that are being made available.