Tues. Jan. 20, 2015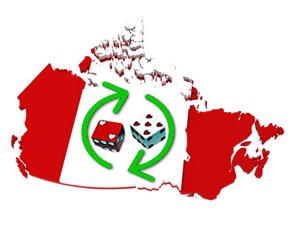 The state of legal online gambling in Canada is always something that we like to keep our eyes on here at Grizzly Gambling and in this article we provide a summary of the latest provincial updates in Canada's regulated online gambling market at the beginning of 2015. In this article we cover updates in Quebec, Ontario, BC/Manitoba, Alberta and Atlantic Canada to let you know about what's going on in your province.
Legalizing International Online Gambling Sites In Quebec
In late 2014, an independent review that was ordered by Loto-Quebec was shared with the public and led to mixed feelings about the performance of the french online casino site, Espacejeux. It led to rumors that the gaming commission is considering licensing international brands to operate within Quebec. Espacejeux just hasn't made a notable impact or the anticipated revenue for the government. One of the main reasons cited was the market share that is occupied by unlicensed foreign sites. It has been recommended that a licensing process be created to allow foreign operators to become licensed in Quebec, so the likes of Poker Stars and Bet365 would pay tax and generate more revenues from the bets that players are already making. This model generated enough interest that a meeting with their Ontario counterparts was scheduled to consider how feasible the plan actually is. We'll see how this development progresses throughout 2015.
New Legal Online Casino In Ontario
Plenty has been happening in Ontario in the lead up to the end of 2014. The new OLG online gambling site was first introduced with an invite-only test phase in November where VIP players could test blackjack, roulette, and slots games. By the second week of the New Year, PlayOLG.ca became the new home for Ontario's the new online casino and lotto site. Unfortunately, the test phase wasn't enough to avoid significant hiccups during the launch. Albeit, it wasn't as bad as the security breach experienced during the launch of BC's online casino PlayNow, however, many of the first to signup hit social media channels to complain about games not loading, slow or non-existent customer service and more. It's still early yet, so expect to see more headlines in 2015 about the OLG, including the possibility of licensing international gaming sites and allowing them to legally operate in the province with tight regulations in place.
New Slots For Manitoba/BC Legal Online Casino
In British Columbia and Manitoba, there was a move made to dramatically improve the casino product available on the PlayNow casino website. A new licencing deal led to the introduction of new WMS slots games which went live during December and included a selection of some very popular Las Vegas titles such as Zeus and The Wizard of Oz. The improved product gives players in these provinces even more choice when it comes to the online casino games they want to play. PlayNow now offers games from Spielo G2 (GTECH) and WMS which is a positive sign that the BCLC is really focusing on player experience and making the product as attractive as the offshore sites that reportedly continue to attract players from BC and Manitoba. Let's hope there are similar improvements throughout this year.
Off-track Horse Racing In Alberta
Horse Racing Alberta, who are responsible for regulating horse racing in the province have announced that there will be new off-track betting on horse racing. After a long and drawn out process, the announcement was made and operations are now to be shared between Century Casinos and Northlands Park to ensure that all angles of the industry are covered and overseen in Alberta. Century Casinos will now be responsible for operating all Southern Alberta outlets including Calgary, Medicine Hat, Red Deer, Lethbridge and the surrounding rural areas, while Northlands Park is responsible for operations in all areas North of Red Deer. No developments pertaining to Alberta's position on online gambling have occurred recently.
Atlantic Canada's Future On The Internet
In Atlantic Canada, we are expecting to see a new proposal to be made to offer full online gambling services on the ALC website. The proponents are expected to use the same arguments that were made when video lottery terminals were introduced in the Atlantic region. ALC will likely maintain its stance that Atlantic Canadians need to be protected from offshore gambling sites and that there is plenty of money to be made for the province. The ALC annual report released last year mentioned that Atlantic Canadians are spending millions of dollars each year on international gambling sites and the profits that these sites make don't stay in the region or support the community like the ALC site does. The report suggested that a regulated alternative would protect the players of Atlantic Canada and that a discussion is needed. Unfortunately for the ALC, it has to get the support of multiple provinces and, at the moment, the only province to express interest is New Brunswick. Regrettably, it's unlikely that the maritimes will see any progress here in 2015.