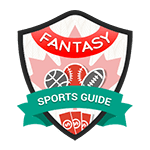 Fantasy sports have been woven into the culture of North American sports fandom since the early 1980's and exploded in popularity during the internet age. Fantasy sports allow fans to submerse themselves in their favorite leagues by becoming an owner of their own fictional franchise, building their superstar team via a draft, and competing against others for bragging right and often cold hard cash.
It's that latter of those two that fueled the rise of daily fantasy sports - or DFS - which has quickly become a multi-billion dollar industry in just the last half decade. Rather than competing in season-long fantasy leagues, daily fantasy offers players the same format and strategy but limited the action to as short as one day with real-time updates on their team's status. There is no season-long commitment.
Owners pay an entry fee to enter pools and are given a set payroll to draft a team, with players of different skill levels priced accordingly. The best players often cost the most which means if a owner added them to their roster, they would have less payroll to round out the rest of the team. Points are awarded in real time depending on those selected players' performances and prizes are awarded to the teams with the highest point totals, depending on the rules of the particular pool.
Recently, daily fantasyhas come under fire from critics who claim the game is in the same vein as online sports betting, which is outlawed throughout most of North American - save for Nevada, Delaware and Canada. Daily fantasy has always operated under the claim that is a game of skill - not chance - which separates it from general sports betting.
In Canada, daily fantasy sports have flourished without much question whether it blurs the lines of gambling or not. As parlay sports betting is offered through provincial lotteries and the government is mulling over single-game wagering, DFS remains a singular and very much legal option for fans to show just how much they know about their beloved sports, putting their money where their mouth is each and every night of the sports calendar.