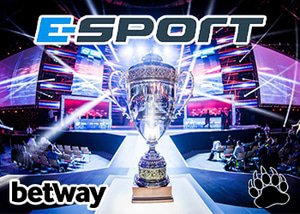 You can continue to believe it's not a sport, but eSports - also known as competitive video gaming - continue to expand in popularity every year.
In 2017, market researchers indicated that eSports made a staggering $696 million in revenue with its total audience reaching 385 million. They also project that the total revenue will reach $1.48 billion along with a total audience of 589 million by 2020.
After the first video game tournament more than 20 years ago, leading eSports tournaments are now attracting audiences that can easily rival the largest traditional sporting events in the world with midweek live streams attracting over 100,000 online viewers.
As the number of professional tournaments and leagues continue to grow, so does the market for placing bets on them ꟷ which is why Betway Sportsbook and other international sportsbooks are taking the opportunity to tap into this worldwide phenomenon.
International eSports Tournaments in 2018
eSports couldn't have grown into such an immensely popular industry without the contribution of video game tournaments. These well-funded competitions are considered the backbone of the industry and continue to expand each year.
Aside from players building a name for themselves through these prestigious competitions, they usually earn a decent living as well. The biggest prize pool to date managed to reach $24.6 million with the winning team taking home an astonishing $10.8 million.
This year, Betway will sponsor massive eSports events: the ESL Intel Extreme Masters, ESL One and CS: GO Pro League.
ESL, formerly known as Electronic Sports League, is a renowned eSports company that has organised worldwide competitions since 2000. ESL is considered the oldest eSports organization that is still in operation to this day. In 2007, Intel contributed funds to create worldwide tournaments and named it the Intel Extreme Masters. The IEM hosts a series of international tournaments across the globe. These ESL sanctioned competitions, sponsored by Intel, include several events such as Hearthstone: Heroes of Warcraft, League of Legends, Quake Live, Counter-Strike: Global Offensive, and Starcraft II.
eSports Sponsorships
International sportsbooks are just beginning to see the potential of this market, with many sportsbooks starting to offer competitive odds on eSports games and tournaments.
Betway sportsbook will be sponsoring the ESL One and the ESL Intel Extreme Masters events this year along with seasons 7 and 8 of the premier CS: GO Pro League. The sponsorship from Betway comes after the online bookmaker sponsored the ESL One Cologne, as well as the CG: GO Pro League in 2017. Betway enjoyed incredible success in the past year, becoming the very first betting partner of ESL One Cologne and CS: GO Pro League.