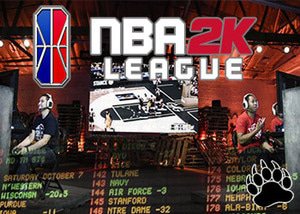 The NBA 2K League is starting something special in the world of sports betting, thanks to a merge between professional sporting leagues and the competitive video gaming world.
The NBA 2K League has recently announced a multiyear agreement with Twitch, including exclusive live broadcasting rights for all games. Set to have its introductory season in 2018, the NBA 2K League will consist of the top-rated gamers across the globe representing 17 of the NBA's best teams in the virtual world.
This is the first media-rights deal when it comes to the NBA 2K League and the first official eSports league which is operated by the pro sports league in the United States. The venture between Take-Two Interactive and the National Basketball Association was announced in February 2017.
NBA 2K League Schedule
During the NBA 2K League season, the 17 teams will compete for a staggering $1 million prize pool consisting of 3 tournaments along with playoffs leading to the finals. The regular season will commence on May 1 and will continue for 15 weeks, comprising of matchups for 12 weeks and tournaments for 3 weeks. The 17 teams will be competing in 19 games, including a total of 14 regular season matchups and 3 additional tournaments. Twitch has agreed to live-stream close to 200 games during the 2018 season, including weekly regular-season matchups, 3 in-season tournaments, the playoffs on August 17-18, and the finals on August 25. Twitch's live streams will include league updates, live commentary, and analysis on each game.
As with regular basketball sports betting, bettors can expect a vast range of eSports betting options for the NBA 2K League, too.
NBA 2K League Format and Teams
The NBA 2K League games will consist of traditional 5v5 matches and the players will use customised MyPlayers offered by the 2K League where each of them will feature a rating in the region of 90. The quarter length of each match is still undecided, but most social media voters are hoping to see 5-minute quarter lengths like NBA 2K18's Pro-Am mode.
There is a total of 17 NBA teams that will participate in the 2018 NBA 2K League season. All 2K players representing their team will receive a competitive salary along with housing and other additional benefits. The 2K League teams include 76ers GC, Jazz Gaming, Warriors GS, Blazer5 Gaming, Magic Gaming, Bucks GG, Mavs Gaming, Cavs Legion GC, Knicks Gaming, Celtics Crossover Gaming, Heat Check Gaming, Grizzlies Gaming, Pistons GT, Kings Guard Gaming, Pacers Gaming, Raptors Uprising GC, and Wizards District Gaming.
How to Bet on NBA 2K League
With the NBA 2K League only starting on May 1, none of the eSports betting markets is currently available. However, Canadian bettors will be able to bet on NBA 2K matches at a variety of bookmakers where odds on eSports are available. A recommended sportsbook like Sports Interaction will have plenty of betting options to choose from, so make sure to register an account to take full advantage of the NBA 2K League.