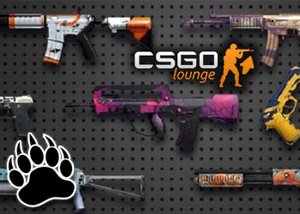 Counter Strike skins website CSGO Lounge is the biggest skin betting site for Counter-Strike and they have just announced their plans to apply for a gambling license.
CSGO Lounge was recently named in a US lawsuit relating to illegal gambling against developer Valve Software. Valve issued a cease and desist letter to CSGO Lounge and other websites ultimately barring them from using Valve's API.
CSGO Lounge has protested and insists that they are not an illegal gambling site. They have stated that they will comply with gambling laws in various countries by limiting access in places where betting with unlicensed sites is forbidden.
In a recent statement CSGO Lounge stated that virtual items in games such as CS:GO and Dota2 have no monetary value and any community interaction with these virtual items "is meant only for entertainment, without any profit interest."
After receiving the cease and desist letter from Valve, they were forced to "make a decision on how to proceed with CSGO Lounge as a community and entertainment service." Their statement said, "We have decided to acquire a license to legally operate in most of the countries and be able to accept esports betting by our community as if it would be real money."
Valve Faces Lawsuit
A couple of weeks ago it was reported that Valve were facing an eSports gambling lawsuit over skin betting. Valve is the company behind Counterstrike: Global Offensive. The lawsuit that was filed related to illegal gambling on CS:GO and skin wagering. The lawsuit alleges that Valve "knowingly allowed, supported, and/or sponsored illegal gambling by allowing millions of Americans to link their individual Steam accounts to third-party websites."
Valve took action and issued cease and desist letters and blocked third party sites such as CSGO Lounge from having access to their API.
Twitch Blocks Broadcasters From Showing CS:GO Gambling Sites
Following on from Valve's cease and desist letters, Twitch plans to stop skin real money betting. They warned their users to stop promoting the skin betting gambling activity. They posted a warning on their blog telling users that "content in which the broadcaster uses or promotes services that violate Valve's stated restrictions is prohibited on Twitch." They have also moved to prevent broadcasters from showing third party CS:GO gambling sites.
With both Twitch and Valve joining forces to stop the illegal gambling of CS:GO skin betting it seems that CSGO Lounge really has no choice but to put their plans of applying for a gambling license into action. Whether they are successful or not is yet to be seen and we have no information on any of the details of their forthcoming licensing plan. We will be sure to update Grizzly Gambling readers on the progress of things as information becomes available.