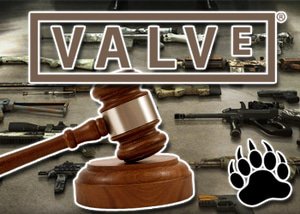 Valve are facing an eSports gambling lawsuit over skin wagering. This is the company behind popular video games including Counterstrike: Global Offensive (CS:GO) and Half-Life.
According to gaming website Polygon, this lawsuit is over illegal gambling and relates to CS:GO, and what is known as the skin betting market.
Skin betting only appeared after the release of Valve's "Arms Deal Update" in August 2013, which allows players to trade decorated weapons for use in the poplar online game.
Players can wager skins in the same way as they might wager casino chips, on the outcome of a variety of different events, from eSports matches to more traditional casino games like blackjack and roulette.
According to a recent estimate from Eiler & Krejcik Gaming and Narus Advisors, the activity in 2016 alone is expected to show eSports bettors wagering around $7.4 billion.
Skin wagering is becoming a problem and a number of third party websites have popped up during the past three years to facilitate the wagering and trading of skins. What's more, many of these sites do not require age verification. Underage gambling in eSports has already been shown as problematic and something that is being looked at and this skin wagering issue only adds to it.
The lawsuit that was filed last week by Fairfield, Connecticut resident Michael McLeod, alleges that Valve "knowingly allowed, supported and/or sponsored illegal gambling by allowing millions of Americans to link their individual Steam accounts to third-party websites."
What this means is that Valve stands accused of knowingly allowing "an illegal online gambling market and has been complicit in creating, sustaining, and facilitating that market."
The lawsuit is seeking unspecified damages and class action status. It alleges that Valve directly profits from transactions tied to gambling, providing "legitimacy" alongside "money, technical support, and advice" to betting sites CSGO Lounge and CSGO Diamonds, as well as OPSkins, which operates a market where virtual goods can be traded and redeemed for cash.
The complaint that has been filed concludes by saying, "In, sum, Valve owns the league, sells the casino chips, and receives a piece of the casino's income stream through foreign websites in order to maintain the charade that Valve is not promoting and profiting from online gambling."
It also states that most of the people in the CS:GO gambling economy are teenagers and under the age of 21 which makes Valve's and the other defendants' actions even more unconscionable.
So far, Valve has not commented on the lawsuit.
CS:GO is one of the main eSports betting games and this lawsuit could cause a lot of trouble. eSports has already been under the spotlight on numerous occasions so it will be very interesting to see how this plays out.