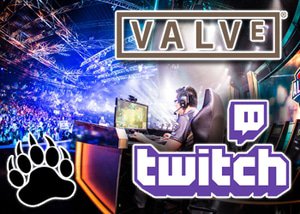 The eSports skin betting trend has taken another blow from both Twitch and Valve. Twitch have warned their users to stop promoting the gambling activity while Valve has cut off access to the marketplace.
Last week, just hours before games developer Valve Corporation said it would no longer permit third party gambling sites to access their Stream marketplace, Twitch posted a blog message where they warned their users that "content in which the broadcaster uses or promotes services that violate Valve's stated restrictions is prohibited on Twitch."
It has been noted that eSports is the mainstay of Twitch programming and in fact, it is responsible for more than a fifth of their total viewership. Valve titles like Counter-Strike: Global Offensive and Dota 2 are among the most popular eSports titles that are streamed by the Twitch platform.
Skin Betting Causing a Lot of Trouble
The past few weeks have been very unkind to eSports and we have seen Valve hit by class action lawsuits for allegedly facilitating skin betting by minors as young as 13. There have also been revelations of eSports stars publicly shilling for skin betting sites without revealing their ownership of these sites.
In one case, e-sports star Mohammad "m0E" Assad said that he had received favorable treatment from skin betting site CS:GO Diamonds. This site allows users to wager skins on the chance of winning more valuable skins via the roll of a dice. Assad has a marketing deal with the site and he claimed that they gave him advance knowledge of the outcome of his rolls which allowed him to repeatedly depict big wins via his Twitch stream. CS:GO Diamonds have admitted their involvement and stated that they had made "a bad decision to do this just for entertainment."
In February 2015, Valve issued a warning to stop gambling on eSports matches following a string of incidents in which eSports stars were found to have thrown matches in which they had bet on their opponents to win.
There has been a lot of mounting negative press which has cast a serious doubt over the viability of the eSports skin betting industry. Whether this will continue or not will depend on Valve's ability or willingness to enforce its ban. This also assumes that regulators don't step in and force their hand.
Double Blow Dealt by Valve and Twitch
Valve are now moving to cut off access to the Steam marketplace for gambling sites and major streaming website Twitch. This will ban all broadcasts showing skin betting activity.
Skin betting is the wagering of decorated weapon designs, in a similar way to how you can wager casino chips on a variety of games including the outcome of eSports matches and more traditional games like roulette.
Skin gambling has become very popular and has expanded dramatically over the past three years especially in games like Counterstrike: Global Offensive.
According to Bloomberg, the skin betting market was expected to take in $7.4 billion in bets this year, but this could seriously shrink in the wake of this week's statement from Valve.
Erik Johnson from Valve said, "These sites have basically pieced together their operations in a two-part fashion. First, they are using the OpenID API as a way for users to prove ownership of their Steam accounts and items. Any other information they obtain about a user's Steam account is either manually disclosed by the user or obtained from the user's Steam Community profile. Second, they create automated Steam accounts that make the same calls as individual Steam users. Using the OpenID API and making the same web calls as Steam users to run a gambling business is not allowed by our API nor our user agreements. We are going to start sending notices to these sites requesting they cease operations through Steam, and further to pursue the matter as necessary."
Johnson also stated that Valve does not have a business relationship with any CS:GO gambling sites and has never directly received revenue from them.
This move is going to come as a serious blow to skin betting sites, as the Steam API is crucial to facilitating the majority of the games these sites offer.
On top of this Twitch has also moved to prevent broadcasters from showing third party CS:GO gambling sites and a statement on their website last week confirmed it.
Could this be the end of the skin gambling market? We will have to keep an eye on things to see how things go and what will happen next in the world of eSports.