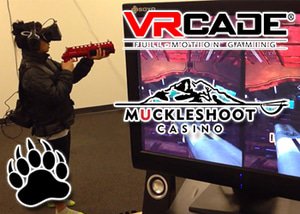 In some very exciting news this week, Washington state, land-based Muckleshoot casino announced that they have added a virtual reality product to their casino.
This new VRcade will give Muckleshoot casino players a chance to take part in exciting experiences while hopefully drawing in a younger clientele to the casino floors. We first reported about virtual reality earlier in the year when we told you about Microgaming bringing virtual reality to online gambling, but the addition of VRcade to a land-based establishment is something new and very exciting.
Muckleshoot casino is working with developer VRstudios to bring experiences to the casino that will be complete with 3D graphics, movement, and tactile feel. These experiences will include zombie apocalypses, a wild west shootout, and more. The VRcade is being set into the casino's nightclub area, and has already proven to be extremely popular during the soft launch.
Commenting on the launch Junior Maldonada, Muckleshoot Entertainment Manager, said, "People of all ages are loving this riveting new experience. Some customers are so enthralled they've played VRstudios' games more than 15 times in a single night and then returned the next evening for another round of fun."
Virtual Reality Has a Great Future
At the recent Global Gaming Expo, Virtual Reality has a large presence. It seems like more and more land-based casinos are looking at ways to bring younger players to their floors. Many of the VR games don't have anything to do with gambling but they do get younger bodies in where they may be inclined to play some of the real money games available. The VRcade experience costs $5 per session and a schedule of events can be found on the Muckleshoot website for all those interested.
VRstudios have already launched their product in a number of countries including the US, Russia, and throughout Europe and Asia. The equipment uses the HTC Vive headset and is coupled with 3D surround sound headphones and equipment that can be made to resemble firearms or even our own hands.
VRstudios President Kevin Vitale said, "VRstudios' industry-first approach to VR is attracting U.S. and international theme parks, family entertainment centers, arcades and other entertainment venues. Entertainment companies are discovering that our platform and solutions can help evolve and grow their businesses, as well as increase customer loyalty,"
We already know that Canadians have the biggest VR hardware budgets so hopefully we will see VRcade being rolled out in some of the land-based casinos here too. We already know that Canadians like to spend money on this hardware and if that's the case, we're sure they'd love to test it on in one of the many land-based gambling establishments too. We think it's a great way to attract a younger clientele, and who knows, the VRcade could be a big hit with the older clientele too.
What we do know for certain, Virtual Reality is here to stay and we expect big things in 2017 and onwards from this new technology.