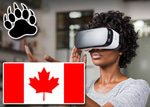 2016 is to be the year of virtual reality even though the mainstream adoption of this technology won't happen for some time yet.
There is great excitement building about this new technology and so many people are wanting to try it out. Canadians buying VR hardware have the biggest budgets in the world according to the latest reports even with the limited availability and the high prices of the technology. This two factors along are causing adoption issues for this new tech.
An online survey that was carried out on 35,000 people aged between 10 and 65 across 16 different countries has just been released by marketing firm Newzoo. Their survey shows that 11 percent of consumers are planning to buy a VR headset, with Spain, Italy, and the United States showing the highest levels of interest in new virtual reality products.
A budget of course is essential for the purchase of such products and when it comes to annual hardware budget among potential virtual reality buyers, Canada has topped the list, with over a quarter of potential buyers budgeting over $600 annually. This kind of monetary budget puts those Canadian buyers in the high-end VR market, if the survey respondents choose to spend their money on virtual reality products. The survey reported that only seven percent of those that answered the survey said they would spend this way.
The majority of survey takers who described themselves as esports enthusiasts said they were planning to purchase VR hardware in the next six months. This is a particularly interesting figure as the esports market, although extremely lucrative, is untapped when it comes to virtual reality.
Microgaming to Bring Virtual Reality to Online Gaming
We already know that Microgaming are planning to incorporate VR online casino software into their product and they showcased their first VR game at ICE in February 2016 with great results. The industry leader is planning to use the Oculus Rife headset in their first virtual reality casino game which will be VR Roulette. Microgaming used ICE to prepare for their entry into the virtual reality industry and their first VR game is available in Canada but only at select Microgaming casinos. We will be keeping a close eye on Microgaming's VR online casino software and we expect great things from this industry leader.