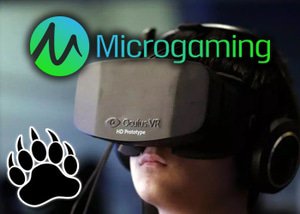 Microgaming looks set to change the future of gambling through the use of virtual reality. Their Cryolab has showcased a virtual reality video on the creation of the VR Roulette for use with the Oculus Rift headset.
Microgaming's Cryolab display was one of the main highlights of this year's ICE 2016. This 3D exhibit showcased the company's widespread R&D drive for their preparation of the Virtual Reality technology of the industry. The new product was designed in Cryolab and was done exclusively for ICE 2016.
Virtual Reality combined with real money gaming is completely new and it works by wearing a device knows as Oculus Rift. This is a headset that players wear on their head while two displays are streamed to their retinas to create an immersive experience.
At ICE 2015 Microgaming showed us how wearable technology could impact the online gambling industry and at the time they named it "Glass Betting" based on using Google Glass. They also showed how slot machines and live dealer titles had the potential to be developed into real money VR online casino games perfect for the Glass, or now the Rift.
Now in 2016, Microgaming's first VR game is available in Canada, but only select Microgaming casinos offer the hardware to their Canadian players. VR Roulette which has been developed for use with the Oculus Rift DK 2 headset and Leap Motion 3D Controller. The game has been designed to examine analogue interactions across real and virtual environments, tracking the player's hand movements and then projecting them into the 3D world. Visitors to ICE 2016 and the VR casino exhibit have the capacity to experience a personal understanding of how it works and they were transported in outer space to a roulette table via the headset and 3D controllers.
The VR casino exhibit was a massive success at ICE and Microgaming have now released a video explaining how their pioneering initiative is the future of online gaming. Games and technology are advancing all the time and the Oculus Rift headset will be available from March 2016. The introduction of wearable technologies, virtual reality, and amplified authenticities are helping the online gaming industry to advance even further.
Take a look below at the impressive Cryolab display in this video from the ICE 2016 event: