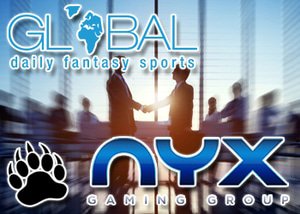 NYX Digital Gambling, a subsidiary of NYX Gaming Group, has agreed to an exclusive deal with Global Daily Fantasy Sports (GDFS). This strategic relationship is for the distribution of B2B fantasy sport across the OGS platform.
The terms of this agreement deal details NYX granting GDFS exclusive right to distribute its products on the open gaming system and network. The deal also confirms the undertaking of promoting products to current and future customers via marketing and sales assets for five years. So many people are winning at daily fantasy sports and this new exclusive deal could see NYX become the first of many software providers becoming involved.
In this exclusive deal, NYX will receive a monthly royalty from Global Daily Fantasy Sports in conjunction with the $1 million that is to be paid to NYX for distribution rights. If certain conditions are met and the initial 5-year agreement goes well the deal can be renewed.
Darcy Krogh, Chief Executive Officer of GDFS said this about the new agreement deal. "Our distribution partnership with NYX is a key alliance for the launch of our B2B daily fantasy sports product in Europe. Having the exclusive integration into the NYX OGS platform gives our DFS product access to some of the largest gaming brands in Europe and should provide our network immediate liquidity. We look forward to working closely with NYX and their partners to further develop and distribute our DFS product into the marketplace."
Global Daily Fantasy Sports Strategic Relationship with NYX
GDFS has entered into a definitive agreement with NYX Digital Gaming for the establishment of a strategic relationship for the distribution of the Company's B2B daily fantasy sports platform product on NYX's Open Gaming System platform and OGS distribution network to NYX clients worldwide.
Under the NYX Agreement:
NYX granted the GDFS an exclusive worldwide right to distribute its DFS Product on the OGS platform and OGS Network.
NYX will offer and promote the Daily Fantasy Sports product to its current and future customer base as its sole DFS solution and will use its sales and marketing teams to maximize commercial exploitation of the DFS Product.
For the distribution right GDFS paid NYX $125,000 upon the signing of a term sheet, $125,000 upon the signing of the definitive NYX Agreement and must pay a further $250,000 to NYX upon the commercial launch of the DFS product on the OGS platform and OGS Network. In additional, GDFS will pay a monthly royalty to NYX.
The term of the NYX Agreement is five years from the date of the first commercial use, and the initial term may be renewed by GDFS on written notice to NYX for an additional five years period subject to certain conditions being met.
NYX's OGS was name 2016 Platform of the Year and this company is trusted by some of the world's most successful operators including Bet365, William Hill, Ladbrokes, and more. These clients have databases ranging up to 35 million online players.
Daily Fantasy Sports Industry
The Daily Fantasy Sports industry was created to provide instant gratification to a small group of fantasy sports enthusiasts. The industry has since transitioned from an idea into the mainstream and has become a billion dollar business with millions of active participants. It has also led a number of people to question if daily fantasy sports is gambling or not.
Daily Fantasy Sports have been in existence in Europe and legal since 2014, it has followed the same consumer-facing model as North America. Global Daily Fantasy Sports Inc. hopes to disrupt the competitive landscape by being the first true fantasy platform that was built for both regulated markets and exclusively as a B2B network. They plan to offer flexible avenues for gaming operators to enter the DFS space by allowing them to protect and expand their audience with simple integration of both player databases and existing online wallets.