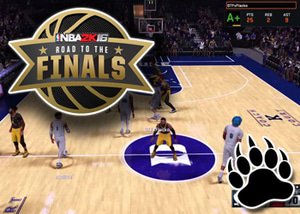 The NBA has officially entered the eSports industry. Their decision to partner with video game developer to create the NBA 2K16: Road to the Finals eSports competition could be a real game changer and something that was previously only dreamed about.
The NBA are entering the eSports industry and they are taking it very seriously. In partnership with video game developers 2K, they have launched one of the most exciting eSports competitions in the world.
NBA 2K16: Road to the Finals kicked off on the 15th of February and will run until the 8th of May. During this time, basketball fans from around the world can get busy creating teams, emblems, kits, logos, arenas, and more, along with a team of four people to compete for a top prize of $250,000 and tickets for the 2016 NBA finals.
NBA vice president of licensing, Matt Holt, told Fortune magazine, "the popularity of competitive gaming continues to grow around the world and NBA 2K16's Road to the Finals is a great way to bring passionate gamers together."
In this exciting new online gambling eSports competition, teams will compete in as many of the 16 qualifying events as they can. The statistics from their four best winning games will then be rated against the best of the rest to determine which teams will go forward to the end of the tournament. The winners will then face off in a series of single-elimination matches at the NBA Finals in June.
eSports Can No Longer Be Considered A Fad
The owner of the Dallas Mavericks, Mark Cuban, invested in Unikrn, an eSports gambling site, and he has suggested that he might even buy a League of Legends team. Former LA Lakers star Rick Fox has already purchased a League of Legends team which he has named, Team Echo Fox. Could the NBA be about to do the same considering all the potential on their doorstep.
The eSports format has no limits and strategic partnerships between sporting teams and leagues and video games will keep growing from this. According to research firm Newzoo, the number of hours spent watching FIFA 16 games on Twitch increased more than 80% in January, and those that watched NBA 2K16 more than doubled.
It really does beg the question of whether we should expect country specific targeting in the future such as hockey in Canada, or sport-specific leagues such as the NHL, NFL, etc., to jump on board the eSports trains. From what we can determine, the nature of eSports is to expand beyond geographical borders, so before we see Unikrn targeting Canada with NHL eSports matches, we will be expecting to see international NHL eSports teams doing the circuit and competing live in Canada, Germany, and around the world. With the NBA endorsing eSports and the fact that there are already international FIFA eSports teams, we expect to see more and more happening during 2016.