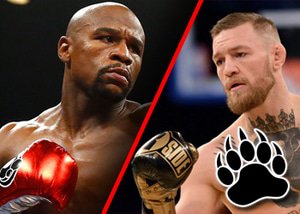 Floyd Mayweather's super fight with Conor McGregor was certainly one of the most hyped up sporting events in modern day history with all signs indicating that the box office exceeded expectations.
Although the bout between these two superstars faced a lot of controversy over its sporting integrity, merit, and point, there's one thing that's not up for debate: the fight made everyone involved an astonishing amount of money.
Floyd Mayweather has always been flashing his cash for years, with wads of cash being posted on Instagram, and this is likely to continue after his victory against McGregor. Mayweather's fight against Pacquiao, during May 2015, broke several pay-per-view records that lead to more than 4.5 million pay-per-view purchases with an average price tag of $99. However, TV revenue for his fight against McGregor was estimated to have broken $400 million with Mayweather walking away with an estimated value of $180 million.
Estimated fight purse
The sports betting fight of the year fight purse greatly depended on several different variables, including ticket sales, pricing structure, pay-per-view sales, and this is what helped to determine the Mayweather/McGregor betting odds. The Nevada State Athletic Commission verified the minimum each will receive from the bout is $100 million for Mayweather and $30 million for McGregor. However, the pay-per-view revenue exceeded everyone's expectations and was worth over $300 million, where total revenues exceeded $700 million.
What was the split?
A confidentiality agreement meant that the exact split was not revealed. However, numerous reports suggested the difference to be 75-25 or 70-30 in Mayweather's favour.
Ticket sale revenue
The Money fight's hottest ticket was priced at $5,000 according to a breakdown of tickets sold for Mayweather's 10th round TKO win over McGregor, revealing the third most expensive ticket was indeed the best seller with 67% of seats purchased. The sporting event was well short of the $70 million live gate records for the Mayweather and Pacquiao fight in 2015. However, it still managed to generate an enormous box office payout worth $55 million in revenue on more than 13,000 tickets for an average of $4,000 per ticket.
Record-breaking volumes for Mayweather McGregor Fight
Final figures were released by the NYX Gaming Group for the massive fight a few weeks ago. The technology and software provider stated that it handled record-breaking quantities with boxing bets and stakes though OpenBet, a sports betting in Canadaonline platform, during the intense bout. The record consisted of a 530% increase with total stakes and a 375% increase in bets when compared to Mayweather's previous fight in 2015. McGregor, the underdog, saw around 85% of the bets while total stakes amounted to more than a million in Mayweather's favour.