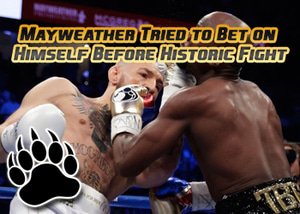 The Mayweather McGregor fight of the year saw sports betting fans in a frenzy. Lots of bets were placed including Mayweather's $400,000 bet on himself that was denied.
Prior to beating Irish MMA champion Conor McGregor, it seems that boxing legend Floyd Mayweather actually tried to place a $400,000 bet on the fight, but was turned down because of legal concerns. The fight saw Mayweather win in the 10th round on Saturday night to a massive crowd of fans.
Sports betting in Canada is huge and fans were more than keen to get the best odds and in-play action at the top sports betting sites. Sources have reported that Mayweather visited the M Resort in Las Vegas just a few hours before his fight with McGregor and asked to place $400,000 on the match. He was looking to place a bet on the fight ending in under 9.5 rounds which was at odds of -200. Even though he had the cash in his hand, Mayweather was turned away because of concerns over whether it was legal to bet on anything other than a straight win by a participant.
Mayweather then attempted to put all the money on himself for a straight win, but ended up leaving the resort upset after being made to wait to have the bet filed. The Mayweather McGregor betting odds were great and even though he wasn't able to place his bet, Mayweather is said to believe that one of his friends could have done it for him and a bigger wager too.
Mayweather told a reporter after the fight, "I think that we bet 100 on 9.5. I gave my guy six figure to go bet. I have to make sure he bet because earlier today I went to the sportsbook to bet and they wouldn't let me bet."
The Mayweather McGregor fight has been the largest fight sports betting event in history so far, with analysts predicting the $70 million bet record between Mayweather and Pacquiao would be beaten. The main reason for such interest was the fact that Irish MMA champion fight McGregor chose to get in the ring with a boxing champion. McGregor was unable to use any of his MMA fighting skills and faced severe penalties and loss of cash for the use of an elbow.
McGregor performed well all the same in his boxing debut, winning the first three rounds and landing some heavy blows against Mayweather. In the end, it was the tiredness that got to him and Mayweather became aggressive causing the fight to be stopped just over one minute into the 10th round.
Fans of McGregor have called on Mayweather to step into the Octagon and face McGregor with MMA skills. We can't see it happening of course, but it would make for a spectacular sports betting event. Two champions taking each other on in their championship sport.