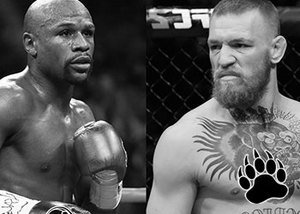 With each passing day, more fuel is added to the Mayweather vs McGregor fire.
The anticipation and speculation for this August 2017 boxing bout started, innocently enough, when Conor McGregor featured on the Conan O'Brien Show on July 2, 2015 and was asked about potentially fighting Floyd Mayweather. Since the episode aired, it has rapidly grown to a point where it became the biggest and most-talked about subject in the world of combat sports.
It's quite surreal that the Floyd Mayweather vs. Conor McGregor boxing match is finally upon us, but fortunately that is exactly the case as we steadily approach Saturday, August 26 where the bout is taking place at the T-Mobile Arena in Las Vegas. Mayweather, considered the best boxer of the last two decades with an impressive 49-0 undefeated win/loss record boasting with 26 KO's, will return to the ring at the age of 40, after a two-year retirement, to face Conor McGregor, the biggest name in combat sports. McGregor is currently the UFC lightweight champion with a 21-3 win/loss record in MMA.
When the two megastars finally touch gloves in the T-Mobile Arena in Las Vegas on Saturday, after 2 years of sniping on social media, and with strong potential to break Floyd Mayweather's pay-per-view record buys of 4.6 million from his victory over Manny Pacquiao in 2015, the circus build up will finally result in an actual boxing match.
Mayweather will seek his 50th win of his boxing career, which would best Rocky Marciano's mythical mark as the former heavyweight champion, against a self-assertive Irishman making his debut in professional boxing. The 29-year-old McGregor has proven himself as Floyd's equal during the build up to one of the most anticipated fights in history in terms of flaunting his business acumen and talking trash, but whether he is an equal in the ring against the former pound-for-pound king largely remains in question.
A High-Profile Fight with Big Odds
Apart from being one of the most high-profile fights in the history of combat sports, it can also easily end up as one of the biggest sports betting events of the year, including the Super Bowl. A line manager at Sports Interaction states that this fight could meet, or even exceed, the Super Bowl handle from last year sometime on Saturday. As it stands, the public is distinctly in the corner of Conor McGregor. The lightweight UFC champion opened as nearly a +1000 underdog last year December, and by midweek, the brash Irishman was bet down to a +290 underdog, while Mayweather is currently a -400 favourite.
If you need additional proof of just how big the Mayweather McGregor odds are, the pay-per-view buys on over/under was set to 5 million and the over is currently priced at -256. The boxing odds page at Sports Interaction provides a full list of fight props including specific weigh-in odds, such as, will either of the two fighters undress to make weight (+479 Yes), to whether either of the two fighters will lose their mouth piece (+495 Yes), as well as if there will be a 2018 rematch (+381 Yes).