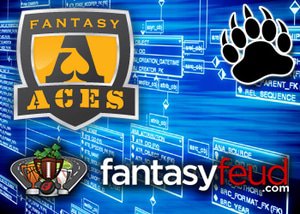 Small DFS operator Fantasy Aces has announced that it has acquired the database of Fantasy Feud Inc suggesting that small daily fantasy operators are consolidating.
The National Football League (NFL) is about to kick off and it looks like small daily fantasy sports operators are looking to give giants DraftKings and Fanduel a run for their money. According to Yahoo Finance, Fantasy Aces has acquired certain active DFS participants in the database of Fantasy Feud Inc.
Gaming Nation, the parent company of FFI, will receive a C$25,000 cash payment in exchange for Fantasy Aces' direct access to its database of more than 35,000 participants. The remainder of the purchase will be paid is common shares of the company.
Tom Frisina, CEO of Fantasy Aces, said: "This deal should prove to be extremely accretive to shareholders and the timing of the deal could not be better as we move into the biggest quarter of the year, with NFL starting, followed by NBA and NHL, while MLB and PGA continue.
He also said that "With certain states finally announcing that DFS players are able to freely play, we expect the whole industry to expand dramatically over the next few years."
This agreement benefits both parties and our combined players and we are extremely pleased to have closed this deal.
Scott Secord, President, and CEO of Gaming Nation, said: "This agreement benefits both parties and our combined players and we are extremely pleased to have closed this deal. Tom and his team have demonstrated that they not only have the experience but the wherewithal to drive value from each player on their site. I am confident that not only will their revenues continue to grow exponentially, but they will be able to realize the site's true potential and ultimately generate a significant return for us as shareholders."
Data has shown that Fantasy Aces and Fantasy Feud Inc have a combined gross revenue of $1.15 million with game entries of 1.38 million and prize payouts of $12.11 million.
Fantasy Aces stated that the completion of the acquisition is "subject to the approval of the TSX Venture Exchange and all other regulatory bodies having jurisdiction in connection with the acquisition." When the deal has been completed Fantasy Aces will announce the full cost of the acquisition.
In a statement Fantasy Aces said, "Upon completion of the Acquisition and the migration of the FFI participants to the Fantasy Aces platform, Fantasy Aces will become one of the largest daily fantasy sports (DFS) companies in the industry. Fantasy Aces executives and employees will continue to serve as the operators, including all day to day site operations."
It was also stated that Fantasy Aces "will become the DFS site recommended and endorsed by the other key daily fantasy properties controlled by Gaming Nation including Fantasy Guru, DFS Guru Elite, Pick Nation, and 5050 Central."
Analysts have ranked Fantasy Aces in the fourth position when it comes to daily fantasy sports operators. The top three DFS operators are DraftKings, FanDuel, and Yahoo DFS.
More mergers of DFS operators are expected in the next couple of months and there are even rumors of a possible merger between DraftKings and FanDuel.
DraftKings In The Money Again
In related news, DraftKings has secured over $150 million in funding from investment firm Revolution Growth.
Revolution Growth partner Steve Murray said, ""Online fantasy sports are just one of the many ways technology has disrupted the sports industry in recent years. Building a business is never easy, especially one that is leading the creation of a new marketplace, but Revolution has the expertise to help entrepreneurs execute on their ideas, especially where sports and policy intersect."
Revolution Growth is no stranger to investing in the sports industry. It contributed $44 million to Sportrader last October.