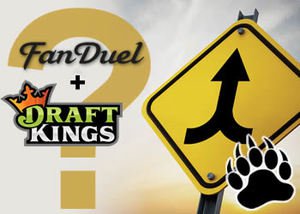 FanDuel and DraftKings, two of the biggest names in daily fantasy sports (DFS), are in discussions about a merger. This is a big deal and it will radically change the DFS market in the US, Canada and abroad.
This possible merger deal has been reported by ESPN.com and Bloomberg and for venture capitalists who have been supporting these companies, it is sure to be music to their ears. According to Bloomberg, the investors have been hoping for this type of deal for quite some time.
A daily fantasy sports mega merger makes a great deal of sense especially when you consider that the two companies spend a great deal of money on advertising and new customer acquisition. If the two companies join forces the costs would be cut dramatically and this would leave more money for investor profits.
Joining forces would also cut both DraftKings and FanDuel's legal bills in half as they continue the battle to remain legal in most US Markets.
Now while this all sounds great, it could also lead to a few new legal problems and there is no indication that the Commerce Department regulators would be keen on approving a merger between two companies who combined market share comprises of 95% of the US daily fantasy sports market.
This could be nothing more than talk and a way for both companies to survive after their valuations were cut in half following the data leak scandal last fall.
DraftKings Becomes the First US Based Fantasy Operator to List the CFL Among its Games
The CFL and DraftKings have announced a fantasy sports partnership and it looks like the CFL is looking for more ways to engage with young adults who have disposable income. This happened during the same month that daily fantasy sports operators reached an agreement that may allow them to resume business in New York State and decided that they wanted to expand their presence in Canada.
The Draftkings and CFL partnership was announced earlier this week and the deal will see DraftKings add a slate of CFL games to their fantasy sports betting menu in Canada, offering winners prizes like tickets and VIP experiences, as well as cash. Drafkings will also advertise at CFL games.
This deal marks the CFL's first partnership with a major US-based fantasy operator. Matt Kalish, Draft Kings chief revenue officer said that connecting with the CFL strengthens the company's presence in an important market. He also said, "As we've built out platform out, we've been able to add more and more sports and we've been able to localize. We saw the opportunity to tackle either the first or second most popular sport in Canada. For a lot of people the CFL is their favorite sports."
The CFL is eager to leverage any tool that will help them to penetrate the 18-34 demographic. In a poll of Ontario residents research found that no respondents in that age group listed the Argos as their primary rooting interest.
The CFL's senior VP of marketing and content, Christina Litz, said that younger adults are open to following the CFL if the league can find the right hook. She pointed out that among the people that played the league's online Pick 'Em game last season, 40 percent were younger than 35.
Litz went on to say that expanded fantasy sports options speak directly to that cohort and should allow the league to expand their popularity among people who don't want to consume sports passively.
Litz said, "Football itself is such a lean-in kind of sport. More and more, that's that case when our fans are watching the games. They are not necessarily content to sit back and just watch a broadcast. They are looking for new ways of interacting."
According to the Fantasy Sports Trade Association more than 57 million North Americans play fantasy sports, spending an average of $556 each year. The industry grew rapidly last fall as Draft Kings and Fan Duel spend aggressively to advertise during NFL broadcasts. Many of the commercials featured players who had won massive cash prizes in large fantasy games, prompting lawmakers in the US to ask whether daily fantasy was a type of gambling and whether or not it should be regulated.
Lawsuits followed and several states, including New York, outlawed daily fantasy sports. Last week however, New York state senate ruled that DFS aren't gambling and sent a bill legalizing them to Governor Andrew Cuomo.
DraftKings have described their business as seasonal with action peaking during the NFL season and dropping each winter. The breakthrough in New York and the new deal with the CFL show that Draftkings believes Canadian expansion can help fill the gap between NFL seasons.