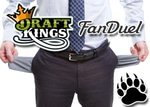 Draft Kings and Fan Duel recently admitted to having difficulty in meeting their day-to-day obligations. This announcement has negatively impacted an already troubled sports betting industry.
The aforementioned companies have nearly settled the case over claims that they engaged in false advertising while promoting daily fantasy sports contests. The settlement costs are apparently difficult to bear for the giants. The settlement is supposed to cost Draft Kings and Fan Duel between $8 million and $12 million. Being months behind in payments to vendors, the companies are now under more scrutiny.
In the past, the lobbyists associated with the companies have played a crucial part in persuading state legislatures to change laws concerning daily fantasy contests. At this point in time, it appears that more layoffs are on the horizon for the companies. More than 60 people have lost their jobs with FanDuel over the past few weeks.
Despite the looming problems, the daily fantasy sports operators have been allowed to operate under a new NY state law that requires the operator to pay a $50,000 annual fee as well as a 15% revenue tax. The State of New York has recently joined seven other states with DFS-friendly legislation. The other states include: Mississippi, Missouri, Colorado, Tennessee, Virginia, Massachusetts and Indiana. In the U.S., Draft Kings and Fan Duel are the biggest services in the daily fantasy sports business. Their estimated value is $1 billion. Legal challenges have been a constant problem for the industry. A question of whether DFS constitutes real gambling has been posed on a regular basis. In the U.S., the individual states determine how the fantasy sport is treated, which causes much controversy. The mobile revolution has contributed to the rise of popularity of this form of gaming. The convenience of playing real money dfs games has also been a factor in the sudden spike in popularity in the U.S. as well as abroad. Fantasy sports in Canada are also attracting a large following.
Collusion or Coincidence
In related news, a Chicago-based player (known as "papagates") has recently managed to win a Fantasy Football Millionaire contest with a $1 million prize via Draft Kings. But last year, the brother of the individual has also picked up a $1 million dollar prize at the site. This sparked a whole controversy over whether collusion was the source of the large winnings. Apparently, a ban to the site was in place during the site's investigation's process. However, the sources reveal that the player who was accused of collusion to win the million dollar prize has recently been cleared of charges.