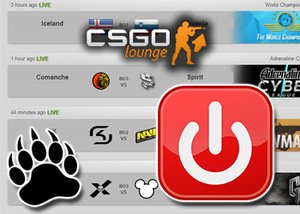 CSGO Lounge announced via Facebook last week that they are ending their onsite betting putting an end to skin wagering on their site.
This latest development comes a month after eSports game developer Valve cracked down on skin wagering websites. The announcement from CSGO Lounge said:
"Today we are announcing that we are closing our virtual items betting functionality with immediate effect. Depositing virtual skins and items in order to place a bet is not possible anymore. At the moment we are working on a solution for items withdrawal, please stay tuned for an update on this topic."
Now that CS:GO Lounge and their sister site Dota2Lounge have ceased skin betting operations, they are just eSports entertainment and information platforms, but they are hoping to add new features very soon. We already know that CS:GO Lounge have applied for a gambling license so we have to wait to see the outcome of this.
CSGO Lounge was one of the 23 most popular Counter-Strike: Global Offensive skin wagering sites that received a cease and desist order from Valve in light of the scandal involving YouTube eSports star Trevor "Tmartn" Martin and Tom "ProSyndicate" Cassell.
Valve is also facing two separate lawsuits for its alleged relationship with skin betting websites. They have denied that they profited in any manner from the earnings from skin gambling and to show their independence, they sent notices to skin betting websites and ordered them to stop the use of their Steam accounts for commercial purposes.
In a statement released on the 13th of July, Valve's Erik Johnson, said, "We are going to start sending notices to these sites requesting they cease operations through Steam, and further pursue the matter as necessary. Users should probably consider this information as they manage their in-game item inventory and trade activity.
CSGO have probably processed over 90 million skins in betting this year alone and they made a futile attempt to continue their operations before finally stopping their gambling operations.
CSGO Lounge and Virtus.pro Owned by The Same Company
Adding fuel to the fire in the eSports betting industry, it has been discovered that the same company owns CSGO Lounge and the eSports team Virtus.pro. For those unfamiliar with eSports, please see our eSports betting guide.
Esportsobserver.com revealed that after some digging around into the Polish company registry files, they discovered that the parent company of CSGO Lounge also owns one of the top Counter-Strike teams Virtus.pro.
The eSports scandal that involved YouTube stars who regularly filmed themselves winning big on the skin betting site CSGO Lounge were found to actually own the company.
This latest revelation shows that there is a serious ethical issued involved when a company owns both the gambling site and the team that competes in some of the matches that people gamble on.
The parent company is called ESForce Holdings (formerly Virtus.pro Group) and paperwork shows they own 90% of CSGO Lounge, as well as the Virtus.pro eSports team. ESForce Holdings also owns the media rights for the Ukrainian eSports team Na'Vi, as well as over 180 various eSports websites, a tournament organiser, and several eSports content studios.
In a blog post titled Unnecessary Risks on the Counter-Strike website, the rules explicitly prohibit the type of business relationship ESForce Holdings has with CSGOLounge and Virtus.pro. The website states:
"Professional players, teams, and anyone involved in the production of CS:GO events, should under no circumstances gamble on CS:GO matches, associate with high volume CS:GO gamblers, or deliver information to others that might influence their CS:GO bets."
The blog post also goes on to state that Valve will "always assume" that a team breaking these rules has "access to private CS:GO related inside information" and that this could give teams an "unfair advantage" when placing bets on games or matches.
We don't know as yet what action Valve will take.