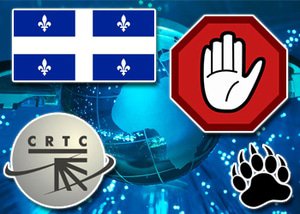 It was reported that Canada's national telecom regulator shared that Quebec had made a propsal to block all unauthorized online gambling sites, saying they were illegal. It was also reported by the Canadian Radio & Television & Telecommunications Commission late on Thursday that an application was filed by the PIAC Public Interest Advocacy Centre in July, requesting the regulator to formally block the IP-blocking plans made by Quebec.
Bill 74 was approved in May, this legislation compel Internet providers to block online sites that offer gambling activities and that was not approved by the Loto- Quebec gambling monopoly. The bill started countless arguing that the plan by Quebec was unconstitutional since telecom issues are under the federal government's jurisdiction or at least considered to be. A lawsuit was launched in the Superior Court by the associations presenting telecom firms arguing that they would be the ones forced to carry the financial burden in blocking unauthorized sites.
Quebec Simply Can't Block Access Without Permission - CRTC
The CRTC rejected the Quebec online gambling law according to as shown on CTV News After the Quebec government's attempted action to block all online gambling websites that were in competition with Loto-Quebec, they are facing, even more, opposition was the message from the CRTC. Reported from Montreal a preliminary opinion by the federal broadcast regulator is that Quebec is lawfully unable to block access to certain websites without the approval of the CRTC. By Federal telecom law only the CRTC can legally order such an action.
Public Hearing Wednesday 7th to 8th September 2016
CRTC scheduled a public hearing in Gatineau in Quebec to start on Wednesday the 7th of September until Thursday the 8th of September 2016. Finally, according to compliance with juridical or legal requirements, whether foreign, provincial or municipal, it is not allowed to block specific websites owned by Canadian carriers, especially not when it is in absence of Commission Approval under the Act. A fifteen-day window is now opened by the CRTC; the window is to allow all parties interested to submit their opinions on the matter. The CRTC plans to issue a final opinion once it had time to digest these opinions.
Carlos Leitao Finance Minister Quebec
Leitao previously expressed his confidence in the approval of the federal law was not required since the IP blocking was intended to protect the health of Quebeckers by allegedly shielding them from the evils of online gambling.