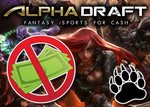 Fantasy eSports fans got a heads up recently when AlphaDraft made the announcement that it is ceasing its fantasy real money eSports contests.
It is now official that AlphaDraft will no longer be offering fantasy eSports contest and the change took place on the 21st of October. This coincides with the World Championship of the League of Legends conclusion according to the eSports Betting Report and is a disappointment for those who enjoy real money esports.
A news outlet obtained a copy of the email forwarded to all customers in which AlphaDraft announce its decision to halt the contests while it plans to continue evaluating the eSports landscape. AlphaDraft reported that players are free to withdraw their funds freely at any time without any hassles after the announcement was made that they have decided to no longer offer fantasy eSports contests.
Alongside Vulcun, AlphaDraft was one of the very first platforms to provide fantasy real money eSports. Established in 2014, AlphaDraft offers paid and free contests allowing participants to draft new teams on a daily basis without commitments that last over a season and at the same time fans can compete without the requirement to create a fantasy league of their own.
FanDuel, a daily fantasy sports operator, acquired AlphaDraft in September 2015, at the time not long before the plague of legal uncertainty surrounding the eSports market regarding its US market future. AlphaDraft targeted professional video gaming while DraftKings, as well as FanDuel, focused on professional sports.
Fantasy Real Money eSports - A Challenging Market
Fantasy eSports was always a challenging market yet more so after the legislative challenges as well as the legal challenges that were responsible for paralyzing the industry for daily fantasy sports, it all started in October 2015, which was only a month after FanDuel acquired AlphaDraft. Even Vulcun had to close down the offering of fantasy eSports on its site in July in favour of the Twitch chat games. After being measured, as the biggest name in the Fantasy eSports arena, drawing $13.3 million, from investors and players in funding, looking to benefit from the escalating eSports fantasy market.
There are many who enjoy this style of sports and with multiple ways to win playing Daily fantasy sports, it quickly has become a popular past time. Yet, even with this in mind, there is an on-going debate on the legality of Fantasy sports gambling.
At this point, wagers on fantasy real-money eSports events are not being accepted since the company already halted acceptance of wagers on events taking place in January next year due to concerns regarding the United States regulations. In October 2015 Vulcan ceased all Nevada operations due to the Gaming Control Board's demand that stated that all operators who accepted real-money esports wagers for daily fantasy sports had to be in possession of a state gaming license.