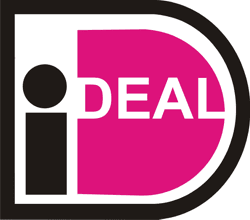 iDeal is a popular e-wallet in the Netherlands and there are dozens of online casinos that accept iDeal however, Canadians are not permitted to register an account. It is strictly a Dutch payment solution for the Netherlands only.
Despite the fact that Canada cannot use this payment method, here is a little more information about Dutch payment solution.
The iDeal casino payment method is standardized payment method that allows users to make secure online payments directly between their bank accounts. Ideal is the leading online banking transfer methods for all Dutch players. It is connected to all major Dutch banks including ABN, AMRO, ASN Bank, Friesland Bank, ING, Rabobank, RegioBank, SNS Bank, Triodos Bank, and Van Lanschot Bankiers. It allows for trusted and secure, easy online payments. This payment method is steadily gaining a reputation as being a trusted service and more than half of all Dutch online buyers use it.
The iDeal system links directly with your online banking application and in order to use it, you dont need to register or open a new account. If you are planning to use this method to deposit funds into your online casinos account, all you have to do is choose iDeal in the list of payment options in the cashier section. The payment platform will then ask you to choose one of the banks listed and one this has been completed, you will be connected with your bank account where you will be asked to verify your identity. You will then be able to transfer your money into your iDeal casino account. This payment method can only be used for deposits and cannot be used as a withdrawal method so you will need to find an alternative for this.
Pros and Cons for this Payment Method
There are a number of pros and cons for using this payment method for your online gambling and these include:
safe and secure
iDeal users deal with a system that they are familiar with
perfect solution for anyone with a Dutch bank account
There are also a number of disadvantages to using this system and these include:
You must have a Dutch bank account
can only be used for deposits, no withdrawals
iDeal Online Casinos
When it comes to iDeal online casinos, you will find that NetEnt is one of the software providers that allows this payment method. There are a number of great sites to choose from and you will even find iDeal casino bonus offers too. These are percentage bonuses that players receive when they choose to deposit funds into their gambling account using this payment method. This can be up to 15% every time you fund your account and this is a great way to get to free casino cash and boost your bank roll. There are terms and conditions and wagering requirements so be sure to check these out before making your choice.