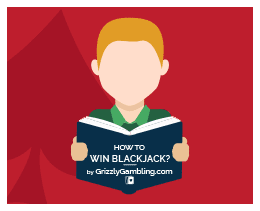 There are lots of strategies and systems that you can use when playing online blackjack. Below you will find information on the top 5 most popular systems that will increase your chances of winning. You can use these to play both the free version and real money version of blackjack.
Basic Strategy: This system is based on the mathematics of this popular card game. It has been rigorously tested and refined using computer simulations. When followed correctly, it does reduce the house edge to approximately 0.5%. There are some adjustments to this strategy depending on the variation of the game you are playing. For example, some online casinos allow doubling down after splitting whereas others don't. There are also changes for single and multiple deck titles. It is important to learn the basic strategy and there are printouts available all over the internet. This strategy chart will tell you exactly how to play your first two cards based on the dealer's up card.
Martingale Strategy: This system uses a negative progression to make back lost bets and is one of the most popular. It is very easy to learn and use. The first thing you have to do is pick a base amount to wager and you work from here. When you lose a hand, you double your previous bet. When you win, you go back to your original base amount. You keep doubling until you win. You do have to remember that you always double your losing bet and not the starting amount when using this strategy.
Paroli/Reverse Martingale System: This strategy is the exact opposite of the Martingale. Instead of doubling when you lose, you double all your winning bets until you lose. When you lose, you go back to your base amount. The advantage is that you don't need as much bankroll to use this system but you do have to set a limit for when you will stop doubling your bets.
Parlay Betting Strategy: This system is common in horse racing wagers but it can also be used in blackjack. You use part or all of your winnings to increase the size of your next wager. This system allows you to win more using less of your own money. The advantages are similar to the Paroli system plus you have the chance to win much more because you are increasing bets with money you have won from the casino.
Labouchere Betting Strategy: This is one of the more complicated system but if used correctly you are guaranteed to make a profit. To start, you have to write down a series of number. You should keep these between 4 and 8 so an example could be: 1-3-5-7-4-3-2. Using this sequence you take the first and last numbers and add them together. So 1 and 2 would mean you bet $3. If you win this you cross out the first and last numbers and add the first and last numbers of your new sequence together. Each time you win you cross out the first and last numbers until you have finished your sequence. If you lose your bet you add the amount you wagered to the end of the sequence. So in our example we would add 3 to the end of the sequence.