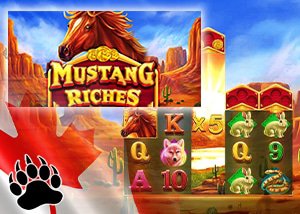 There are several online betting sites out there which can provide excellent experiences to people all around the world. That being said, it is a good idea to give Spintropolis Casino a try. It is a site with a lot to offer, and it includes a plethora of games for you to enjoy. Here wee will conduct a Mustang Riches slot review. We are going to look at everything of importance with this game so that you know what to expect when you get started.
An Overview and Review of Mustang Riches
If you are a fan of animal themed titles, you will immediately be pulled into this slot. It is a title that gives users the opportunity to win up to 7236x their total stake, while remaining filled with great gameplay and adventure. The title takes place on a 5x3 grid, and there are 243 ways to win. Additionally, the game games with expanding wilds that land often, as well as four options for the bonus round. Finally, you should know that this slot was made by Microgaming. Microgaming is one of the software providers in the online gaming industry with the most stellar reputations. As a result, you should expect great things from games they make like this one.
Game Design and Themes
The first thing you will notice when you start playing this slot is that it takes place in a hot desert. The backdrop is of a desert setting with large canyons. In the top of the screen you will see the bright blue sky, and when you look lower you will notice cacti filling the desert.
In our Mustang Riches review, we found that the reels were made up of low paying and high paying symbols. Symbols of the A-10 Royals made up the lower paying options. Conversely, exotic animals like wild rabbits, wolves, and dangerous snakes made up the high paying options. Each reel can land on up to three golden horse coin symbols.
Interesting Features
When you start playing the game, you will start to earn golden mustang coins. This coins trigger the BlazingWays dynamic reels. This increases the number of winning combinations from 243 to 7776, and as a result, you have a greater chance to win.
Bet Sizes and Volatility
The volatility of a slot determines how likely you are to win, but it also determines how much you can win if you are one of the fortunate few to hit the jackpot. Our Mustang Riches review found that it is a highly volatile slot compared to others in the industry. Its return to player percentage, or RTP, is listed at 96.45%.
When making bets, you can stake as little as $0.20 at a time. Alternatively, you can make a bet as high as $40 per spin. When you make the maximum bet, you can win a total of 7236x your stake.
Use No Deposit Bonuses If Possible
While it can get expensive to play games like the one discussed in our Mustang Riches review, there are things you can do to cheapen things a bit. Notably, you are able to claim no deposit bonuses if they are available. These types of bonuses are very popular because they do not require players to make a deposit before they claim them. Instead, they can be claimed as soon as you make an account on the site. As a result, when you visit Spintropolis Casino for the first time, you should look to see if any of them are available.
Microgaming As a Software Provider
We briefly mentioned it at the start of our Mustang Riches review, but this slot comes from Microgaming. Microgaming is one of, if not the most renown software providers in the industry. They provide games for hundreds of online gaming sites, and they are known for the incredible quality that they keep up. As a result, it is a good thing to hear that this title comes from Microgaming.
Final Thoughts and Verdict
After finishing our Mustang Riches review, we were happy with what we found. The game is filled with exciting features which should keep users entertained. Additionally, while it is highly volatile, the payouts make it worth it. As a result, it is a good option for players that are looking to take big swings and shoot for the stars.