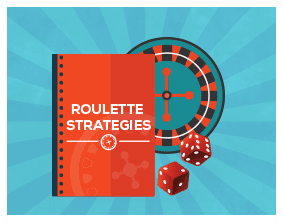 If you want to increase your chances of winning when playing real money roulette games there are a number of strategies that you can use. If you are new to this game we recommend playing free roulette games. Canadian players can try them with no registration and no download here on our website. Below you will find information on the 5 most popular roulette systems.
Martingale System: This is one of the most popular systems in Canada and it uses the premise whereby you double your bet after every loss and keep the same bet value when you win. To use this strategy you must set a base wager to start from. It is also important to note that this system can be risky because if you lose several times in a row you could end up with very large wagers.
Labouchere System: This roulette strategy is where you write down a sequence of numbers usually between 4 and 8 and then add the two numbers on the end to determine your bet amount. If you win your bet you cross off the two numbers on the end and move on to the next ones in your sequence. If you lose your bet you add the bet amount to the beginning of your number sequence and go through the process again. For example if your number sequence is 2-1-5-7-3-4-1-1-2 your first wager would be $4. If you win you cross off the numbers used and your next bet will be $1 (1 + 1). If you were to lose, 4 goes at the beginning of your sequence and your next wager will be $6 (4 + 2).
Grand Martingale: This system is similar to the Martingale but it calls for a doubling of your last wager plus one more unit. For example, if your wager was $5 on red and you lose your next bet would be $15 ($10 + $5). This is a risky system and can end up costing you quite a lot even after just five wagers, but if you win you are rewarded.
D'Alembert: This system can seem quite tricky and you will be decreasing your bet by one unit following a win because the premise behind it is that if Bet A wins more than Bet B, then Bet A is less likely to win again. When you take into consideration that roulette is a game of chance then this system doesn't really hold much weight but it will give you a good number of small wins but it doesn't change the casinos house edge.
Oscars Grind: With this strategy, you bet the same amount following a loss and increase your wager by one unit following a win. As this system progresses, you never bet more than what you need to recoup your previous losses plus one unit of profit. This is a simple strategy but over time your losses can be greater than your winnings and over time you will end up losing more than you win.