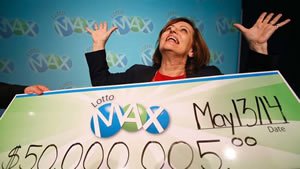 Whether or not you pin any of your hopes and dreams on prayers, it seems that one has been answered to the tune of $50 million for one Toronto LottoMax player.
Sophie Rizavas, when speaking to reporters after claiming the $50 million LottoMax jackpot on May 13, 2014, recalled putting in a little prayer when buying her ticket. She wasn't sure whether or not she should be asking for such a thing from a higher power but asked for only a little in order to help in the lives of her and her husband. Little did the 63 year old know she would get the news of her big win on the 40th anniversary of her arrival in Canada from Greece on May 10th, 1974.
The story of her winning ticket is a confusing one as the events unfolded to reveal bigger prizes than she initially thought. Mrs Rizavas, who held four jobs as a cleaning lady, was on her way home from work when she remembered that she had bought a ticket and stopped to check it. She stopped at the same place where she bought it, Sak's Fine Foods Store at Sunrise Avenue and O'Connor Drive, to use the self checker.
The machine initially turned up a string of zeroes, which is strange because a big win is usually called out with a message informing the player that they've won more than a store can cash out and to contact the OLG offices. This time, though, she ended up asking for help from a clerk who rechecked it and told her that she had won $10,000, not the $50,000 that she thought she had seen on the screen.
Moments later, someone from the OLG support center called Sak's and asked to speak to the person who was trying to check their ticket. As a matter of procedure, the OLD checkers are designed to stop working temporarily if a ticket worth more than $5,000 is scanned and a representative of OLG needs to call the location within two minutes to make sure that the person who scanned it knows that they've got a big win on their hands. What a way to celebrate the anniversary of starting a new life in Canada!
The new millionaire has no plans yet as to what she'd like to do with the money beyond taking her husband on a trip that they've always panned to take but have never had the opportunity to take. An early retirement may be in the works for Sophie Rizavas who, if she so chooses, no longer will have to maintain her four jobs cleaning at hospitals and other locations.