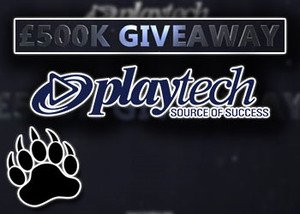 Fancy winning a massive $200,000 for playing your favourite slots games? The brand new $500,000 Playtech Cash Giveaway has launched at all Playtech Casino and is causing quite a stir.
Playtech has launched their largest ever $500,000 promotion across their entire network and it will run for 28 days. If you are signed up with any of the Playtech casinos you can take part.
The giveaway coincides with the launch of three new Superman slots that are being released. These Super Hero based video slots are based on three Superman movies, Superman 1, Superman II, and Man of Steel. The giveaway has been getting a record number of entries already and it is sure to be a massive success with all online gambling enthusiasts.
Last year Playtech held a $250,000 Giveaway to promote the launch of the first series of DC branded titles and this was a huge success, so we can already assume that this new Playtech Cash Giveaway will have just as much interest.
Playtech Cash Giveaway Details
The $500,000 Cash Giveaway will be independently adjudicated and will consist of four draws. One of these will be for the grand prize of $200,000 and the other three will be for $100,000 each. The giveaway will also feature prizes of $5,000 for players as well as hundreds of smaller cash prizes to ensure that all players have a chance at winning something.
To be in with a chance of winning one of the big prizes, all you have to do is make sure you are signed up with one of the Playtech casinos and start playing your favorite games. For ever $10 you wager you will be given one ticket for the giveaway draw. There are specific slots games included in the giveaway and they include some of the best Playtech slots. Titles include Superman 1, Superman 2, Man of Steel, Green Lantern, Space Invaders, Halloween Fortune 2, Buffalo Blitz, Age of Gods, and Plenty O' Fortune. You can have as many tickets as you like and win an unlimited number of prizes too. Full details can be found at any Playtech casino so be sure to check them out.
At the end of the Giveaway, Playtech will launch another network promotion to coincide with the beginning of the new football season, but that is too far away to focus on yet, so for now be sure to get your hands on as many tickets for the $500,000 giveaway as you can.
Shimon Akad, COO of Playtech, said, "We are delighted to announce our biggest ever casino network promotion across a selection of our most popular and best-performing games, and I'd like to thank all our participating licensees for their continued support and for making this our biggest every giveaway."
He went on to say, "We consistently deliver more than 50 new and exciting games a year, complete with a host of innovative features, across a wide range of diverse regulated markets. No other supplier can deliver at these speeds and to these levels of quality and offer such a diverse and fresh range of games. We have meticulously planned the last nine months' content release schedule and strategically aligned it with a series of fantastic marketing promotions. Yet again, I'm thrilled to say that our industry-leading content teams have delivered some incredible products. We're already looking forward to our next promotion."