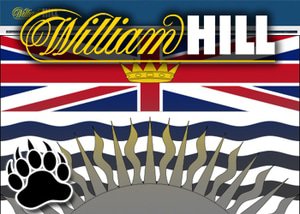 Online Gambling enthusiasts from the province of British Columbia were greeted with a very unexpected announcement from William Hill this week.
William Hill, a well-known gambling company, sent out a short email earlier this week to inform all their players that the William Hill Casino Club would be pulling out of British Columbia for the foreseeable future.
They went on to say, "we sincerely apologize for any inconvenience this may cause you; however this decision has been taken for regulatory reasons beyond our control and with very short notice."
From the 10th of May, players in British Columbia will no longer be able to use William Hill's online gambling products. They can however still withdraw their balances at any time.
William Hill isn't the first operator to pull out of the Canadian online gambling market. Two years ago, Ladbrokes, another British bookmaker, withdrew its services from Canada, but they never revealed their reasons for making this decision.
Sports betting operator Betfair made everyone's Christmas bitter when just hours before Christmas Day in 2015 they announced that they would be blocking Canadian residents from accessing their site's gaming products including fixed-odds sportsbook wagers and exchange bets.
Paddy Power, another big brand name, pulled out of the Canadian market back in 2011, but the company still provides B2B services to the provincial lottery monopoly in British Columbia.
Online gambling in Canada is officially limited to the individual lottery corporations, although the laws does allow some wiggle room as long as international licensed operators don't set up shop within Canada's borders. The provincially-run online casino in British Columbia is PlayNow and if things keep going the way they are, they will be the only option left for sports betting fans in this province.
Right now, Canada is battling for single-events sports betting, but they received a setback last month after the ruling Liberal Party announced that they would oppose Bill C-221, which is the Safe and Regulated Sports Betting Act. The passing of this bill would have paved the way for provinces and territories to decide whether or not to permit single-event sports betting within their borders. At present sports betting is limited to Parlay wagers which means players have to bet on the outcome of three or more events. Single sports event betting would have allowed players to bet on the outcome of a single event and made winning a whole lot easier.
So with William Hill leaving, where does that leave Canadian players? We're sure it's not the last we have seen of William Hill as earlier this year they teamed up with NYX Gaming Group to acquire OpenBet for £270 million. Who knows? Maybe the purchase of Canada's NYX Gaming stocks exposed William Hill to Canadian authorities more than they wanted and ultimately led to the withdrawal of BC. If that's the case, then why not Manitoba, Onartio and Quebec... or all of Canada. Something tells me this isn't the last we've heard of Hills in Canada.