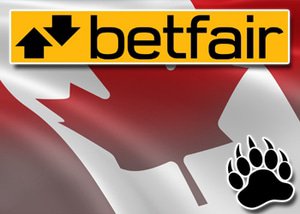 Canadian sports bettors have turned to Betfair for years to place wagers on all of their favorite events.
With a history of a good reputation and fair payouts, Betfair has been a staple for those who place fixed-odds sportsbook bets, exchange bets, and more. Although this comes as a surprise to many gamblers throughout Canada, the truth is that many exchange betting sites are going offline throughout the country.
Matchbook, which was once a very popular site among Canadian sports bettors, pulled its books from Canada in 2014; they never provided a real "reason" for doing so. Next came Ladbrokes, a full-on casino with some sports betting options, which left the Canadian market a little later that same year. Ladbrokes' exchange betting subsidiary, Betdaq, went offline just a few days later. Now with Betfair schedule to follow in the footsteps of these once prominent betting giants, Canadians are running out of ways to place bets on their favorite sports and races. According to Betfair, they will stop offering services to Canadian gamblers as of noon UK time on January 14, 2016. They have advised all of their current Canadian customers to withdraw the funds in their accounts prior to this date in order to avoid the potential hassle of contacting the company's customer support team to get their funds released. What's more, Betfair also says that Canadian gamblers will be blocked if they attempt to access the site from outside of the country.
Canadian gamblers want to know why all of these big-name betting sites are taking their business out of the country. Unfortunately, while most of them have not really gone into detail, Matchbook mentioned "business decisions" and "purely commercial" reasons when they withdrew from the market in 2014. Some people believe that Canadian changes to general licensing processes and anti-money laundering regulations may have triggered Matchbook, Ladbrokes, and now Betfair to take their services elsewhere, but these changes focused only on gambling websites owned by provinces with monopolies on the market, such as PlayNow.com, which is part of the British Columbia Lottery Corporation.
Unfortunately, no matter the reason, it appears that Canadian gamblers are quickly running out of options. It is hoped that new sportsbooks will move in to take the place of those who have moved out, although only time will tell.