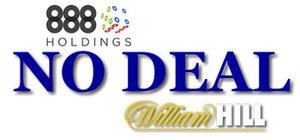 William Hill's bid to take over 888 has ended after the two couldn't agree on a price per share - or get even close for that matter.
A deal worth £700 Million has come to an end. This was the result of William Hill's attempted takeover of 888, and what it all came down to was stock price. The two sides could not come to an agreement on the price per share for the company being acquired, and eventually this led to a situation where the deal came to an end.
The difference in wanted price was pretty substantial. William Hill was offering £2 per share plus £0.03 dividends on each share while 888 was wanting an offer as high as £3. This is about 150 percent of what William Hill was wanting, so it's not really surprising that the two could not come to a deal. It's rare in the online gambling world that this type of issue comes up during takeovers because the values offered from each side tend to be much closer together. Along these lines, not a lot of people initially expected this attempted takeover to go so poorly for both sides.
Online gambling stocks tend to move up when news of an attempted takeover happens, and that's exactly what 888 went through. They saw a 20 percent jump in the value of their stock right after the deal was first announced. William Hill more or less stayed the same with gains of less than one percent. However, after it was announced that the deal went south, 888 dropped 17 percent.
William Hill and 888 both dominate online gambling in the United Kingdom, and they're both popular in other parts of the world. If William Hill would have been able to take over 888, then it would have given them an incredible amount of control over the online gambling industry in that nation and drastically increased their influence in Canada as a direct result. It'll be really interesting to see what happens over the next few months as the result of the fallout of this deal.