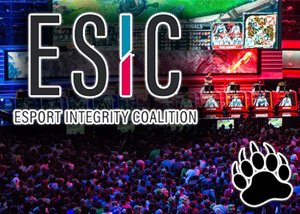 Vulcun has shut down their fantasy eSports website in favor of Twitch chat games as the E-Sports Integrity Coalition (ESIC) is created.
July is turning out to be quite a month for Canadian esports betting fans. Vulcun recently announced that they have ceased their fantasy sports operations from the 5th of July, and according their co-founder Murtaza Hussain, they will be spending the next couple of weeks slowly re-orienting the website as they move into a new arena and away from the hostile environment of legal fantasy sports skills games within eSports.
Hussain also said, "Last year we acquired TwitchAlerts.com and over the course of the year we have been focused on Twitch and making the viewing experience more engaging and fun." He also stated that the new direction will be based on Twitch's login system. This was also explained in a blog post on the Vulcun webite.
Players wishing to have their gold currency refunded must make their request before the 12th of July and from that date Vulcun will be wiping the slate clean and deleting all user data by the 16th of July.
Vulcun attracted $13.3 million in funding from players and investors a year ago and they looked set to cash in on the eSports fantasy market. However, the company decided to stop accepting real-money wagers on eSports in January due to regulatory concerns in the United States.
This latest turn of events and switch in direction will see if Vulcun can take on the challenge of focusing on chat games on Twitch alone.
"We've always strived to make viewing eSports and Twitch streams more fun and we've figured out a better way to do it, vs, the current product." Hussain said.
For now we will just have to wait and see.
E-Sports Integrity Coalition Launches Creating a New Members' Association
The E-Sports Integrity Coalition (ESIC) is a members' association that has been set up for the professional eSports industry. It has now officially launched after being established last year. Ian Smith is to serve as their first integrity commissioner.
Smith said, "I have spent the last 20 years working across a range of sports, involved heavily in the protection of their integrity, so I am looking forward to applying all those insights and experience to the e-sports ecosystem." He also went on to say, "There are many challenges ahead but it is to e-sports credit that the industry is taking these steps in anticipation of a foreseeable problem, rather than in reaction to a crisis, which is the route taken by most traditional sports to date."
The association is open to all professional stakeholders in eSports and members will work towards creating policies and new projects that will be determined by the members. This association will aim to guard against issues such as cheating, match fixing, and doping. These were all issues that surfaced when ESCI carried out a threat assessment in 2015.
ESIC has already revealed a program for acceptance and implementation by professional e-sports stakeholders, consisting of a Participant Code of Conduct, Anti-Corruption Code, Anti-Doping Policy, and an independent Disciplinary Procedure.
In a statement released, ESCI said that they will focus on finalizing membership agreements with stakeholders they are in negotiations with, as well as implementing their program for members. They also stated that they intend to roll out participant anti-corruption education, as well as monitor and investigate suspicious betting in eSports markets through the use of Sportradar's Fraud Detection System.
Members and supporters of this program include Sportradar, Betway, and eSports operator Unikrn.
Sportradar is known for their anti-corruption operations, as its Fraud Detection System has flagged over 2,000 sporting events as likely to have been manipulated since 2009.
Agency Stark eSports estimated that the eSports market generated a turnover of $747.5 million for 2015 and that live streaming of eSports events attracts 100 million unique viewers per month.
Pinnacle Sports also revealed that they accepted one million wagers on eSports in 2014. Research Company New Zoo has estimated that global eSports awareness will reach 1.2 billion gamers by 2017.
ESL is also involved and Anna Rozwandowicz, director of communications at ESL stated, "Integrity is paramount at ESL; we were the first eSports organizer to introduce doping control at events and have since then made awareness of the issue a priority within the industry. ESL is proud to be a part of ESIC and are looking forward to developing and evolving the initiative further with industry partners and influencers."