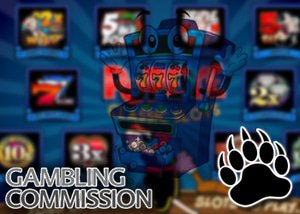 A New Underage Gambling UKGC Investigation is looking at the use of cartoon characters by online casinos.
It looks like underage gambling is hitting the news again this week. Last week we reported on mobile gaming and gambling addiction after a UK report was released and it looks like this week the UK Gambling Commission are stepping up their investigations into underage gambling once more.
According to reports, the Gambling Commission has found the 450,000 children in England and Wales gambling every week. Because of this, the UK Gambling Commission has made a statement ensuring its full commitment to protecting underage gambling. We've already talked about gambling addiction and how real the struggle is here on Grizzly Gambling.
In an article that was published over the weekend it has been reported that several gambling operators are obstructing the younger generation through their marketing campaigns and attracting underage children to their online gambling products.
The UKGC investigation is looking at the use of cartoon characters in casinos and they have stated that operators are using cartoon characters to lure children into playing online. Moon Princess on the Casinoland website is said to offer a minimum stake of 0.20 rising to a maximum bet of 100. 888 casino offers a Jack and the Beanstalk game with a minimum bet of 0.20 and a maximum bet of 200, and Paddy Power's Peter Pan casino game was also mentioned.
The report went on to claim that many children go online using their parents' accounts and the figure for this has increased by six percent from November 2016.
Shadow Culture secretary, Tom Watson said, "The Gambling Commission should act now to extend the current ban on targeting games at children to online products. Betting companies need to acknowledge the harm they are doing by cynically targeting children online and remove these games, many of which can be played for "fun" and without age verification, from their sites."
He also said, "This loophole is ruthlessly exploited by irresponsible bookies and it's one that urgently needs closing."
The UKGC investigations into underage gambling will be looking more closely at the online gambling industry which has denied deliberately targeting children, but the Advertising Standards Agency has confirmed that they will be investigating.
The UK law state that betting firms are not allowed to target under 18's, but the Gambling Commission has said that they fear children are being enticed into online gambling. They are reviewing the rules on gambling products that might appeal to children. This includes the use of colourful cartoon online games like Unicorn Bliss and the Fluffy Too Mega jackpot game.
An investigation by the Sunday Times found more than 30 examples of online casino games that could appeal to children.
An Advertising Standards Authority spokesman said they were carefully looking into the websites highlighted before adding, "We have strict rules on gambling advertising to protect under 18's including that ads must not be directed at or appeal to them."
Lord Sugar has called for tougher restrictions on gambling advertising and said, "This is absolutely wrong and the regulator needs to step in. They have been too soft. We are creating a gambling culture, particularly among the young."
Professor Mark Griffiths, of the International Gaming Research Unit at Nottingham Trent University, said, "Research has shown that when we look at those children who are problem gamblers, the No 1 risk factor is playing games online for free. Children are getting access via their mobile phone to these games in a much easier way than even five years ago"
Online gambling in Canada is also closely monitored and regulated and the same considerations can be applied. There are lots of slots games that feature cartoon characters or movie characters that children love. The UKGC investigation could have an impact on online casino gaming developers around the world and this is one investigation that we will be keeping a close eye on. Underage gambling is a problem around the world and it will be interesting to see how the Gambling Commission begin to deal with it.