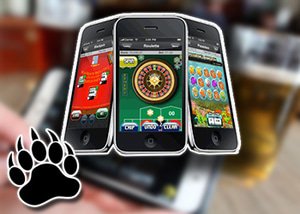 Mobile gaming is the latest problem when it comes to gambling addiction says the National Gambling Clinic in the latest UK report to be released.
In 2013 the percentage of patients with a mobile gambling problem was at 25% according to NPGC. The figure for 2016-17 is 63%. The number of players that have been referred to the support clinic has also increased to 778, up from 632 back in 2012-13. This is a considerable increase, and according to a new report released by the National Gambling Clinic, there has been a substantial increase in problem mobile gaming. The new report shows that the number of people being treated for gambling addition who play on mobile and tablet devices has increased significantly.
Dr Neil Smith, a Consultant Clinical Psychologist and Service Manager for the National Problem Gambling Clinic, said, "The use of mobile phones as platforms to gamble on over the preceding five years is not surprising given their ubiquity in society."
A spokesperson the UK's Department for Digital Culture, Media and Sports is calling on the gambling industry to take further actions to get control of the issues. The spokesperson said, "There is clearly more work needed in this area. We are currently undertaking a review of the gambling sector that includes looking a social responsibility measures across the industry, including protection around gambling advertising."
More Addicts Struggling With Gambling Addiction on Mobile Sites
With the release of the report and the figures, the industry realizes that tighter regulations need to be imposed and software companies are working on apps to block gambling sites from the phones of problem gamblers. The Remote Gambling Association said it encourages responsible gambling.
Campaigner Tony Franklin, who is recovering from gambling addiction said he would bet thousands of pounds from his mobile phone on casino apps. He said, "Once you get a gambling account, you can access it from your mobile, from your tablet, anywhere. There's no escape from it."
He also said, "I was sat in a management meeting,and I was gambling 1,000 a time on a roulette spin on one number."
Mr Franklin has stated that the government needs to ensure companies check whether customers can afford their bets. He said, "It is time for the government to wake up. We've tried self-regulation since the 2005 Gambling Act. It's clearly not working. Just like the banking industry has a responsibility to lend responsibly, gambling companies need to have a responsibility to ensure people play responsibly."
Read our gambling addiction discussions with Thomas Gagliano and Tina Tessina to see just how real the problem is and how it affects lives.
Gambling addiction struggles are real and mobile gaming is proving to be a factor that is making the problem worse.
In the UK the average wait for treatment at the clinic is five months, but figures have shown that some patients wait for nearly a year. Dr Neil Smith, NPGC consultant clinical psychologist and service manager explained that waiting times could be affected by an array of factors and that services have been reorganised to try and reduce waiting times.
A spokespersons for the Remote Gambling Association said that as mobile devices became more reliable, more people began using them to place bets and this has led to a higher number of gambling problem referrals. The spokesperson said, "The good news is that due to the technological advantages of remote gambling we are better placed than most sectors when it comes to encouraging responsible gambling."
If mobile gaming is causing a gambling addiction for you or someone you know, be sure to seek help. Our website not only lists the best mobile casinos, it also has all the information on support services and where Canadian players can find help.