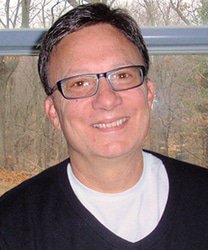 Gambling addiction is a serious affliction and one that we don't take lightly, at Grizzly Gambling. We know that the prevelance of online casinos can make it easy for sufferers to hide in silence, but we're committed to putting our best foot forward and providing information for those who need it. It's for that reason that we recently reached out to recovering gambling addict, Tom Gagliano, to gain first-hand knowledge from the perspective of someone immediately affected by this struggle.
Gambling is obviously a huge industry in Canada and around the world, and comes with many downsides. When we sat down with Tom, we were greatly impressed with his candor and how he has turned his life into a positive mission to help others. Check out our interview:
GrizzlyGambling.com (GG): Hi Tom. Please tell us a bit about yourself. How did you get into the field of gambling addiction?
Tom Gagliano (TG): I'm a compulsive gambler. I believe that experience and expertise go hand-in-hand. My experience and overcoming my own issues, revealed the process for self-improvement. These issues began in childhood when I turned to bullying as an outlet, and, as an adult, towards addiction. I sabotaged the intimate relationships in my life. I then realized I had to fix the damage within me in order to fix the damage I caused in my relationships.
My expertise is teaching a methodology that has helped hundreds of individuals, couples, and parents build healthier relationships with themselves and each other.
GG: It seems like you have a lot of experience talking with other recovering addicts and people struggling. In your opinion, do you think the statistical figures released from the Ontario Problem Gambling Research Centre seem inflated?
TG: Not at all. With digital gambling and online casinos today, you can lose everything with a few clicks of a button. Remember gambling to the compulsive gambler is oxygen where they feel they can't live without it.
You can lose everything with a few clicks of a button.
GG: Do you think that casinos have any incentive to identify and prevent problem gambling?
TG: Remember, the goal is to make money, not to help the compulsive gambler.
GG: Is it a surprise that the tech industry wants to learn from slot machine makers?
TG: No, it's not a surprise at all. They want to know what causes those endorphins in the brain chemistry that creates the need to keep gambling regardless of the consequenses.
GG: What is your opinion on fantasy sports betting and esports? Are they a gateway to gambling addiction in adulthood?
TG: Sure, anything that gets the dopamine going in the brain will create the feel good. The compulsive gambler thinks they are in charge of their addiction when, in reality, the addiction is in control of them.
GG: Is there anything that can be done right now to prevent gambling addiction from channels such as esports and fantasy sports?
TG: Remember, the gambling addiction isn't the problem, but rather is a symptom of the problem. The real problem is the negative core beliefs. The gambler gambles compulsively, the drinker drinks compulsively, the eater eats compulsively to fill that void, etc. That's why addicts go from one addiction to the next, switching seats on the Titanic. The key is to heal that childhood void.
GG: Do you have any studies and/or books published on the subject of gambling addiction?
TG: My best selling book is called The Problem Was Me with Dr. Abraham Twerski about gambling. My newest book is called, Don't Put Your Crap In Your Kid's Diaper: The Clean Up Cost Can Last a Lifetime.
GG: Thanks for chatting with us today, Tom. How can people get in touch with you?
TG: On my website www.theproblemwasme.com.
Tom is a graduate of Seton Hall University and has a bachelor's degree in Marketing. He went back to school, at age 51, and graduated from Rutgers with an MSW in August of 2011. He has added a life coach to his resume in January of 2012. Tom is a life coach, published author, and a keynote speaker with a Master's degree in social work. Today he facilitates men and women's groups, as well as marriage consultations explaining the ways to give parents the tools to give their children the positive and loving messages that may have been denied to them in their childhood.
If you're looking for more to read about problem gambling, please take a look at our recent piece on gambling addiction.
If you or a friend or family member suffers from the struffles of an addiction to online casinos or gambling, please reach out to the Centre for Addiction and Mental Health.