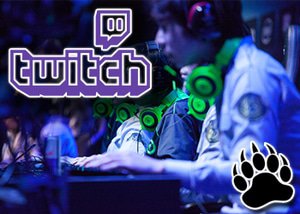 According to a recent report by Newzoo, the eSports industry is responsible for 21.3% of Twitch's viewership, and Twitch is set to partner with Faceit to launch a new eSports league.
This week the streaming giant Twitch announced plans to partner with eSports collaborator Faceit to host the eSports Championships Series (ECS). According to rumors, the ECS has been created to rival the eSports Entertainment Association League (ESEA), and the Electronic Sports League (ESL).
From the information we have received, this new league will play host for the Counter-Strike: Global Offensive (CS: GO) shooter. During the series, 20 teams will compete for a $3.5 million prize fund. Ten of the teams will come from Europe and the other ten will come from North American.
The league is also going to be responsible for the governance of the event, creating a regulatory framework, and improving gameplay. It also appears that the teams that are going to be involved in this new league have also contributed towards the initial prize fund. This new eSports Championship Series legal will stream on Twitch and there are also plans to launch a developmental league in Season 2 to help nurture new talent and bring them into the division.
eSports Industry Responsible for 21.3% of Twitch Viewship
The latest report from data analysts, Newzoo, has revealed that 21.3% of Twitch's audience comes from the eSports community. Newzoo reported that between July to December 2015, 475.5 million hours of eSports coverage was viewed which is an average of 79 million hours every month.
Breaking these figures down even further it was revealed that Multiplayer Online Battle Arena (MOBA) games accounted for 58% of the action with Riot Games League of Legends (LOL) racking up 142.8 million worth of eSports hours and 308.5 million of consumer only hours. Valve's Dota 2 ranked second with 125.4 million hours and 116.2 million of consumer only hours.
Shooter's took up 23% of those hours with Counter-Strike: Global Offensive (CS: GO) attracting 125.1 million and 184.3 million respectively. Strategic Games help 10% of the market with Hearthstone registering 29.7 million and 20.3.6 million. Starcraft II registered 17.5 million and 19.4 million.
League of Legends and Hearthstone have a lot more people tuning in to watch their favorite streamers having a bit of fun rather than watching competitive eSports athletes in action so it will be good to see what happens when this new league starts streaming.