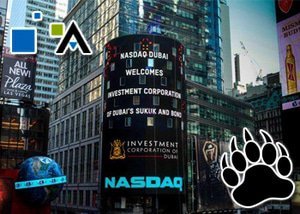 Not ones to stand still when it comes to moving and shaking in the gambling industry there is a new marriage seemingly possibly made in heaven, looming not too far off on the distant horizon. Would anyone be too surprised if the two words, Amaya & Nasdaq, were mentioned in the same breath?
Certainly not if a savvy investor who has been following the gambling stocks headlines lately, reading their daily FT with Bloomberg rumblings in the background, they no doubt would be well abreast of all the Amaya Nasdaq, goings on, and all the current developments that have already sprung up so far.
There's no doubt about it, these boys are going for Gold, and it's just a shame that Canada can't enter them in the next Olympic Games and increase the country's medal count.
Seriously this is incredible news following on from them having just recently unloaded their B2B divisions namely Chartwell and Cryptologic to the NYX Gaming Group, who are of course are also busy doing their own thing, with getting a slice of the Italian market.
They have more than a few games at the ready that are licensed and ready to go in the Italian market and they have already had some nice mutually beneficial dealings, in advancing their game overseas.
NYX gaming group put a little something together of their own as well. It really seems any company worth their salt, just can't stand still, but back to Amaya and before the ink had even dried on their beloved new union, (remember Amaya & Nasdaq,) It seems they are not happy enough continuing to be listed on the Toronto Stock Exchange and now Nasdaq's top-tier trading platform otherwise known as The Nasdaq Global Select Market
Now they've allowed Cristiano Ronaldo to gate-crash the wedding as their Team PokerStars Global Brand Ambassador. What's going on, Is Ronaldo no longer a Global Brand Ambassador for the International nutrition company Herbalife, or has he now been transferred and playing Poker instead of taking his nutrional shakes and tablets 3 times a day? Welcome to the movers & shakers world!