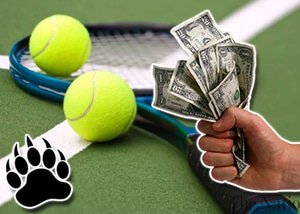 The big talking point at the Australian Open's first day was nothing to do with the play on the court, but the current scandal it appears to be at the center of.
A new report by the BBC and BuzzFeed, claims widespread tennis match fixing by players at the upper level of the world game.
The report cites that a group of 16 players all who have reached the world top 50 have taken part in tennis match fixing, and over half of those players are participating this week at the Australian Open. No names have been released, but the report charged that the governing bodies of the sport have continually ignored evidence of match fixing.
Report Based Upon Analysis Of Over 25,000 Matches
The BBC/BuzzFeed report is a result of independent analysis of betting patterns on over 25,000 matches as well as leaked internal documents indicating compelling evidence of game fixing connected with organised crime syndicates in Italy and Russia. This current investigation follows-on from the revelations in 2008 of matches allegedly being fixed all over the world, a revelation that was to ultimately end with no real resolution.
Investigators began by cross-referencing betting and playing patterns in matches where players lost in games after a sudden and substantial shift in odds against them winning. Creating an algorithm, they determined the chance of players losing after such a dramatic shift in odds from those quoted prior to start, were less than 1 in 1,000.
The report claimed that the core group of 16 suspected players includes Grand Slam singles and double title winners, and one player in particular presently in the Top 50 and currently at the Australian Open, has been repeatedly accused of fixing their first set.
According to the scheme, players are offered $50,000 upwards per match fix when visited at their hotel rooms during tournaments; however the BBC/BuzzFeed investigation declined to name any specific players suspected of fixing. Proving such allegations can only be established with text message transcripts along with access to the player's bank records.
Although the Tennis Integrity Unit has the power to demand these records, they have been slow in taking such action, with players competing on the first day of the Australian open having to address these latest revelations from the moment they left the court. About the tennis match fixing Roger Federer said, "I would love to hear names, then at least it's concrete stuff and you can actually debate about it."