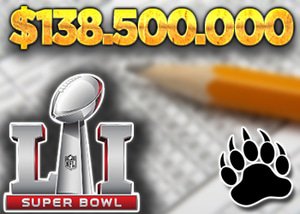 Sports fans around the globe will agree that what were unquestionably the ultimate comeback and probably the greatest Super Bowl ever, still managed to offer spectators more than they could expect!
On the board, the two most popular bets were Atlanta to win on the money line and New England to cover the 3-point spread.
The NFL enjoyed a wild finish to yet another crazy betting season since the New England Patriots opened as the top+500 favourites. The Super Bowl was a classic this year due to the Patriots beating the Atlanta Falcons 34-28 in overtime, which indeed marks the largest Super Bowl comeback in history! Even more exciting, the game was the first to have overtime!
The Nevada Gaming Control Board announced that it achieved a new betting record with the Super Bowl LI event in 2017. Licensed operators took in $138.5 million for a new record, as this surpassed last year's total of $132 million. A punter placed a bet worth $1.1 million on the Atlanta Falcons and was only one of many weighty wagers placing bets.
This was welcome news and many are already anticipating the 2018 Super Bowl and how the Superbowl odds for 2017 will compare to next year's action.
There were some records bets placed this year, as there are most years, but one that was notable was one punter wagering $1.1 million that the Falcons would win by 3 points. The bet was placed in Nevada, which is currently the only state in the U.S that permits legal wagering on sports, with 196 sportsbooks being licensed by the state.
There were a wide range of sports betting wagers that could be placed this year. Ranging from who would win the coin flip to how long the National Anthem would take, and even if Lady Gaga would experience a problem with her wardrobe.
The majority of sportsbooks performed well in this year's Super bowl. However, there were a number that suffered losses due to odds offered with in-play bets relating to a win for New England. One of those was William Hill. Addressing the losses, Nick Bogdanovich, the sportsbook director at William Hill stated "In-play was the killer. That was, by far, the worst thing that ever happened. Everybody was taking the big plus price on New England when they were down 28-3."
If you are interested in betting on the 2018 Super Bowl LII, be sure to keep up to date with the latest NFL teams so you can place a smart bet come next year!